News
»
Go to news main
Finding her way to public administration
Posted by
Miriam Breslow
on May 12, 2017 in
News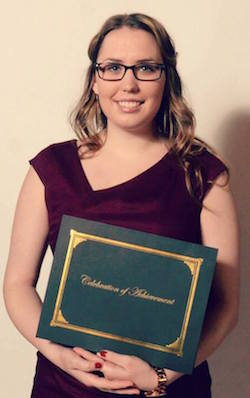 Charcy Britten-Boudreau has been interested in the public service for most of her life, but she didn't always realize it. Poised to graduate from the Master of Public Administration program, she tried a few different paths before choosing this one.
Growing up in Cape Breton, Britten-Boudreau learned about civic engagement from her father, a local politician. "I used to help my dad pass out flyers and knock on doors so as a child I got to learn the importance of local politics," she explains. "However, I lost touch with this interest growing up." Britten-Boudreau entered Dalhousie as a Bachelor of Arts student, switched to the Faculty of Science after a year, and then finally joined the Faculty of Management's Bachelor of Management program. "I took Management 1000 as an elective when I was in science, and realized it was where I belonged," she recalls. "My mother always encouraged me to follow my dream, and find where I was a perfect fit." And in the Bachelor of Management, two core courses about government structure caused a revelation. "When I took those courses I realized, 'oh yes, of course, I do love this stuff,'" she says. She began considering further study of the public service, and decided to stay at Dalhousie and earn a master's degree in the School of Public Administration (SPA).
"I really enjoy looking at how things are done in government, and how the structure works," says Britten-Boudreau. During her graduate studies, she learned this subject not only through classes, but also during an internship in the safety branch of Nova Scotia's Department of Labour and Advanced Education. "I loved being there," says Britten-Boudreau, who stayed on part-time for a term after her internship. She already had exposure to this field from a Management work term with the Workers' Compensation Board of Nova Scotia, and knew she'd love working with the regulatory side of safety.
Another highlight of her time in the SPA, says Britten-Boudreau, was chairing the 17th annual Atlantic Conference on Public Administration. It's the largest conference for public servants east of Montreal, and is hosted every year by the SPA. "We got approximately 200 delegates, which is almost double the number from past years," she says. "And we got not only public servants and private sector entrepreneurs in the door, but also indigenous community leaders, and we brought in all levels of government."
While Britten-Boudreau loved her MPA classes, some of most important things she learned came from outside the classroom: "In the first year of the program, the coursework is very heavy and because of that you're with your classmates all the time," she says. "Because we're all going to be public servants one day, building those relationships is key. I don't know everything, but I really trust these people, so I know I'll be able to look to them for answers and support when I'm at a standstill." With classmates now scattering to various parts Canada, Britten-Boudreau points out that they can contact each other for ideas about how to address issues in their own regions.
For Britten-Boudreau, tackling issues at home is important. Upon graduation she will begin work with the Office of Service Nova Scotia as their first ever Management Trainee. "I think my long-term plan is finding exactly where I fit, finding an area that really interests me so I can make genuine changes that would be good for the province," she says. "I aspire to be a deputy minister one day, so I hope that the experiences I'm building now in different departments will shape me as a public servant in order to be a successful deputy minister."
Britten-Boudreau isn't looking for a career as a politician, she says, but acknowledges that her plans could change. Right now, she's "halfway there" to following in her father's footsteps. Her family ties also helped her through her degree—"I am so grateful to my family for supporting me during these crazy years," she says. "I would not be here today without the love and support from my mother, step-father and partner, along with the encouragement from my dad."
After these "crazy years," Britten-Boudreau is eager to graduate. "I thought when I finished my undergrad that I'd go out into the world a little bit and then get my master's degree," she recalls. "But I'm extremely happy that I did it right away, because now I have an actual career path. I'm even more excited now to go out into the world."