News
»
Go to news main
An inspiring career comes full circle
Posted by
Colin Craig
on December 10, 2015 in
News
The Honorable Mayann Francis appointed Distinguished Public Service Fellow by Dalhousie University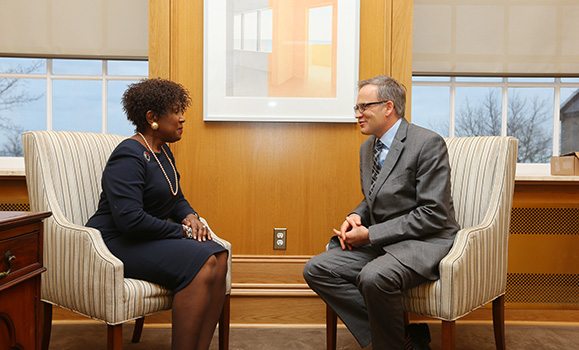 Mayann Francis with Dalhousie President Richard Florizone

As a woman and an African Nova Scotian, Mayann Francis knows all about the pressure to do well and break new ground so that others might follow in the high-profile roles she has filled over the years. Now, at a time in her career when she expected to be retired, Francis has realized yet another first with her appointment as Distinguished Public Service Fellow by Dalhousie University's School of Public Administration.
In this newly established role, Francis will have an opportunity to share her extensive knowledge of the public service with students and faculty alike. She will give guest lectures in Master of Public Administration (MPA) classes as well as the occasional public lecture, be available for one-on-one consultations and write a memoir of her career. She will also offer leadership in areas of greatest interest to her.
"Dalhousie University is extremely fortunate to have Mayann Francis fill this important role. She has been a dedicated public servant who has served in policy, management and executive roles for a wide array of organizations," said Richard Florizone, President, Dalhousie University. "In her public roles she has brought attention to equality, inclusion and faith as important dimensions of community and public service. Her integrity, breadth of experience and proven track record of success will make her an invaluable resource and role model for our students and the community at large."
Committed to equity and social inclusion, Francis made history as Dalhousie University's first employment equity officer and director and CEO of the Nova Scotia Human Rights Commission. She was the first female Ombudsman of Nova Scotia and when she became the 31st Lieutenant-Governor of Nova Scotia in September 2006, she was the second woman and the first African Nova Scotian to hold the position.
A native of Whitney Pier, Cape Breton, Francis began her career working as an X-ray technologist. She went on to earn a Bachelor of Arts from Saint Mary's University, a Master of Public Administration from New York University, a certificate in Equal Opportunity Studies from Cornell University and a certificate in Theological Studies from the Atlantic School of Theology.
Most recently, Francis authored her first children's book and became the Chair of the Board of Governors of the Atlantic School of Theology. Of her career successes she says, "I have been blessed not lucky." She advises others to always have a five-year strategic plan for their life and "to be proud of whatever positive thing you choose to do."
"I never expected to come full circle to Dalhousie, which makes me all the more pleased, honoured and humbled to be seen as a Distinguished Public Service Fellow. This gives me hope that I can have a positive impact on the students and the Dalhousie community," said Francis.
"The School of Public Administration is thrilled to have Mayann Francis as our first distinguished fellow. It is a fantastic opportunity for our aspiring public servants to learn from her experience and wisdom as they plan their future careers," said the School's director, Bob Moody. "Her very presence at the School will enrich our programs and advance our understanding of what it means to dedicate one's professional life to the service of the public."