News
»
Go to news main
Getting to know your staff: Robert Wooden
Posted by
Yitong Liu
on September 12, 2022 in
News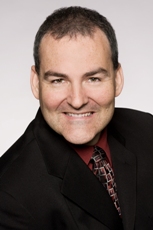 Robert Wooden, our director of Management Career Services (MCS), has been with Dalhousie University for just over 14 years. He has held a variety of positions, starting as a career recruitment specialist in MCS in 2008. After that, he helped launch the myCareer platform, was acting director in 2012–13 and moved into the new role of operations manager in 2014, where he oversaw operational support for MCS. "Different experiences keep me motivated and working hard," Robert says. "There has been a lot of change and I've had a lot of opportunity within MCS." He became director of the unit in 2017.
Before coming to Dalhousie, Robert completed his undergraduate studies at Saint. Mary's University and worked there part-time while a student. During his business studies Robert joined AIESEC, an international youth-run, non-governmental and not-for-profit organization, and committed to spending six months in southern Poland. Even though embarking on a journey in a foreign country sounded crazy in 1991, Robert made this work-exchange decision without a second thought because of his desire to travel the world. "AIESEC was a life-changing experience for me. It enabled me to develop an appreciation for people from various parts of the world and their diverse cultures." Recalling his travel experiences, Robert advises, "Grab a backpack and go experience it because you can grow and develop so much through international travel." Since that first international trip he has been to over 30 countries.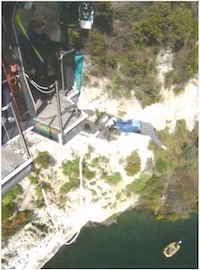 Robert is enthusiastic about taking on new challenges and experiencing new things. In New Zealand in 2004, he said it was an unforgettable experience to touch the cool water of the Taupo River while bungee jumping (pictured right). Robert also enjoys trying new foods. He took a half-day Thai cooking class (in Thailand) and loves experiencing restaurants. "On my Instagram account, the only two things I seem to follow are Dalhousie and food." What most people don't know about Robert is that he is a Disney World fanatic and has visited the Florida theme park eight times (pictured below at Star Wars Galaxy's Edge). One of his goals is to visit every Disney theme park worldwide.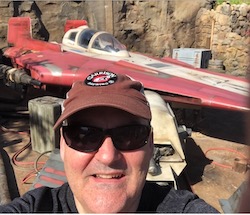 Robert is proud of working with his excellent team to continuously improve the quality and reputation of the three business programs—Bachelor of Commerce Co-op, Bachelor of Management Internship, Corporate Residency MBA—which are all accredited by Co-operative Education and Work Integrated Learning (CEWIL) Canada. "I really believe our goal is not just increasing the number of co-ops we have, but developing quality work-integrated learning experiences." Robert is the chair of CEWIL Canada's Accreditation Council, and he notes that research indicates there are barriers to certain underrepresented communities fully participating in co-op education. Because of this, he finds it exciting and fulfilling to collaborate with other practitioners in his field to enhance the educational experience for students enrolled in work-integrated learning programs.
"As a new staff member, don't be afraid to take opportunities to meet people!" is the advice Robert wants to give every new employee. He was very involved in the Dalhousie Professional and Managerial Group, serving on the executive for seven years and as president in 2015–17. Also, as a staff member working in post-secondary, he encourages others to be active in further education and professional development. In 2016 he completed an MA in Leadership while working full-time.
Robert believes that while the pandemic's remote and hybrid work arrangements have made social interaction more challenging, we should learn to work through it and use everyone's diverse backgrounds, skills and experiences to enhance collaboration. "Talk to people and get involved in various events; it makes your job easier to do. Build a network at Dal!"
As a #DalProud family, Robert's wife works at Dal and their two children are Dal students, both participating in co-op programs.