News
»
Go to news main
Staff impact awards: 2020
Posted by
Nicole Maunsell
on February 25, 2021 in
News
In Fall of 2020, the Faculty of Management celebrated the third annual Staff Recognition Awards. The selection committee, comprising members of the dean's executive team and some of last year's award winners, commented on the large number of excellent nomination packages, which demonstrate the amazing contribution staff make to the life of the Faculty on a daily basis.
The 2020 recipients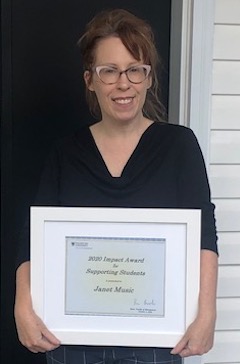 Impact award for supporting students: Awarded to a staff member who demonstrates excellence and professionalism, actively pursuing opportunities to expand knowledge and skills in the field of student service.
Recipient: Janet Music, Master of Information Program Coordinator
Janet Music was recognized for her constant communication with and connection to students during the COVID-19 crisis. Her nominators noted that she is always looking for new opportunities for students, encouraging them to consider different approaches than the traditional path to getting a degree and finding resources to support them financially and instrumentally.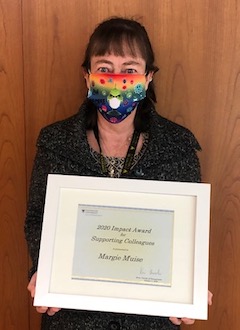 Impact award for supporting colleagues: Recognizes a staff member for professionalism, collaboration, creativity and initiative in supporting faculty and staff colleagues in achieving their goals.
Recipient: Margie Muise, Program Administrator, Bachelor of Management
Margie Muise was honoured for being a person of integrity, caring about students and colleagues, and making sure that everything gets done. Her nominators describe her as a "reluctant leader" because despite her strengths she has such a humble approach to all that she does.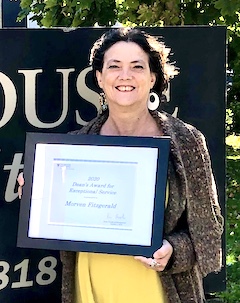 Dean's award: Created in 2020 to celebrate incredible contributions in extraordinary circumstances.
Recipients: Morven Fitzgerald, Learning Coordinator MPA (M) & MIM Programs and Derek Tay, Learning Coordinator MBA (FS/L) Program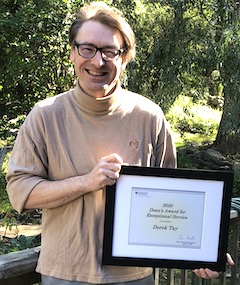 Morven Fitzgerald and Derek Tay were recognized for going above and beyond to support the Faculty of Management's online blended programs and the faculty and instructors who teach in them, working tirelessly to ensure that the courses run smoothly and effectively. They provide extensive training to faculty and teaching assistants and help with technical challenges that faculty and staff face.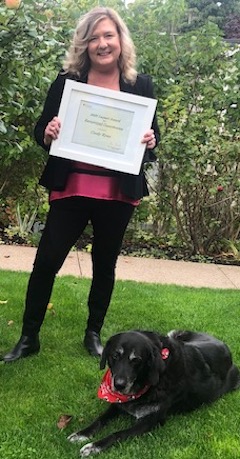 Exceptional contribution award: Awarded to a staff member who demonstrates creativity, initiative, perseverance or resilience in contributing to the university and/or community.
Recipient: Cindy Ryan, Employer Development Coordinator, Management Career Services
Cindy Ryan was recognized for her work supporting Nova Scotia employers and connecting them with students. Her nominators noted her strong drive to build relationships with employers to gain their trust in Dalhousie and engage them as recruitment partners. She also serves on Dalhousie's Growing Community committee and volunteers at local hospitals with her therapy dog, Jazz.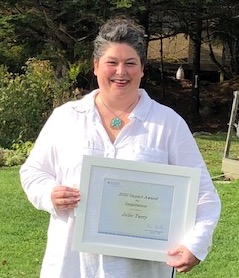 Inspiration award: Recognizes a staff member who promotes a respectful workplace, displays a positive attitude and inspires others to work collaboratively, contributing innovative ideas that encourage out-of-the-box thinking.
Recipient: Julie Tarry, Corporate Residency MBA Program Manager (until February 2020), Undergraduate Academic Advisor (February 2020–present)
Julie Tarry was recognized for both roles that she held in the Faculty of Management over the previous year, where she consistently demonstrated care and concern for student well-being. Her nominators note that she is a model of emotional intelligence who has an ability to see the big picture and address potential policy issues before they arise.
Recognizing staff contributions
Dean Kim Brooks gave her thanks to the recipients and all staff in the Faculty. "You make sure we can pay the bills, build confidence in colleagues and students, think of creative ways to solve problems, ensure that students are able to successfully graduate, that they have big dreams for their futures, are able to stickhandle some of life's harder moments, and that they feel they are part of something bigger than themselves," she said. "You build relationships with employers and partners and remind everyone that the Faculty of Management is a place that cares about how we solve some of the world's thorniest problems. You make it possible for us to share our ideas and make sure we don't settle for average. I love working in the Faculty of Management, in large part because of the incredible community that you are responsible for building."