News
»
Go to news main
Getting to know your staff: Nicole Maunsell
Posted by
Kim Humes
on February 17, 2021 in
News
Our February Profile for Getting-to-know-your-Staff is Nicole Maunsell (Communications Manager, Dean's Office). Thank you, Kim Humes, for interviewing Nicole for this profile, and creating this wonderful script!
Nicole has spent her entire 11 years at Dalhousie in the Faculty of Management. Her title and job description have changed a lot in that time, but she is still our resident communications expert!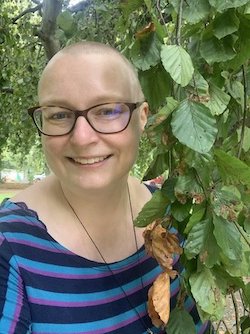 Originally from Manitoba, Nicole moved to Nova Scotia from Vancouver with a partner and decided to stick around after they (amicably) went their separate ways. She loved the small, walkable size of Halifax and proximity to the ocean. Nicole has a Master of Library and Information Studies (MLIS) and a Master of Archival Studies, both from UBC. She thought she was going to work in the library and archives world and was working for the HRM archives when she saw the job posting for Web Strategist in the Faculty of Management. It turned out to be the perfect role for her, as it required someone with an MLIS degree (specifically expertise in information architecture) and marketing experience. She happened to have the perfect mix of skills, given her many summers doing marketing, outreach, social media and programming for a film festival in Vancouver.  
Social media was still relatively new at the time she was hired, and Nicole had to work hard to convince many in the Faculty to take it seriously as a communications tool. Facebook was the main platform then. Some people feared blogs and did not see how they were useful. In addition to the technological changes, she has seen many social changes as well. "We are starting to have hard conversations about equity and inclusion, and what that means," Nicole says. "Change is hard in an institution. We thought we had a handle on it but realized that we don't. A lot of these things were not openly discussed when I first started, and they are now, which is positive. We don't always get it right, but there are good, committed people involved. Those people that are brave enough to start those conversations are going to shape the future. Our students are very engaged and aware now, and that is great to see."
One of Nicole's favourite Dalhousie memories is working on the "Text-a-Tree" story. "The student, Julietta, was so thoughtful and passionate, and I got to spend a morning in the Public Gardens with her and a Dal photographer learning about trees." That experience inspired a later breakthrough for her: "Something I didn't come into this job knowing how to do is communicate with photography and graphic design professionals to get my ideas across. I remember when we were working on a communications plan for the name change to what is now the Master of Information program, I was able to take a photo I loved from the Text-A-Tree photo shoot of two people looking up at a tree in awe and show it to the photographer and say 'I am looking for this feeling but with data instead of trees.' He worked his magic, and it was exactly as I pictured. I felt like I'd levelled up into a more effective collaborator."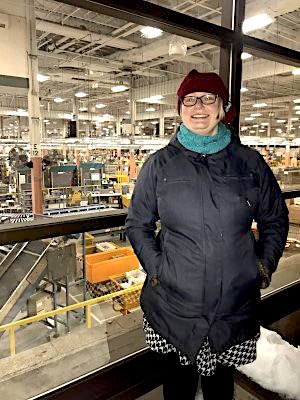 Outside work, Nicole loves puzzles (which help her process problems by rearranging concepts in her head), cold water swimming (June 21, the solstice, is usually her first swim of the year), skating at the Emera Oval (she has already been three times this winter) and getting and sending mail. "Mail is magic," Nicole says, laughing. "You put a letter in a box, and it emerges on the other side of the world exactly where you want it to go! I love watching the mail-sorting machines in the Canada Post facility on Almon Street at night (pictured right). The mail is arranged into these neat packets. There is something very satisfying about creating order from chaos." She has regular pen pals with whom she exchanges letters and postcards.
When asked what advice she would give a new staff member, Nicole says: "Ask lots of questions. Dalhousie is so big, and it can take a long time to learn who does what, or if there is a policy for something or not. Be willing to admit it if you don't know something. Questions may reveal something that doesn't work that wouldn't be obvious to someone who is familiar with the material. There are so many people here that are passionate about what they do (students, researchers, staff). Take advantage of that exposure and talk to people, go to lectures and events. Take courses. I took a policy course a few years ago, I have been a judge for the 3-Minute Thesis competition, and I am on the Dal Reads committee. There are lots of ways to get involved, and that is one of my favourite things about working at Dalhousie."
We hope that you now know Nicole better than you did before, which is the intent of this initiative. If any staff members would like to participate as an interviewer or interview subject, please email dipti.periwal@dal.ca.
Editorial Credit: Janet Lord