Supporting Black entrepreneurship and community leadership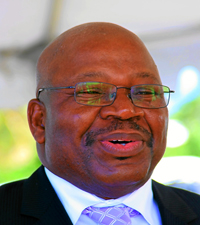 A passionate community leader, S. I. Rustum Southwell is best known as the founding Chief Executive Officer of the Black Business Initiative (BBI), an organization that addresses the specific needs of the Black business community in Halifax. He has shepherded the creation and expansion of hundreds of Black-owned and -operated businesses. From 1996 to 2012, Mr. Southwell led the BBI, taking it from a fledgling organization to an integral part of the economic and entrepreneurial landscape of this province. Two years ago, he returned as Interim CEO.
Mr. Southwell came to Halifax more than 45 years ago from the Caribbean island of Saint Kitts, and studied at Dalhousie before starting a career in food service. He became one of the first Black franchisees in Nova Scotia as the owner-operator of a Harvey's restaurant in Halifax. He has chaired the board of Hope Blooms Youth Ventures Inc., vice-chaired the Caribbean Association of Nova Scotia, co-chaired the African Heritage Month Committee, and has been involved with the Black Loyalist Heritage Society, the Black Cultural Society and the Nova Scotia Home for Coloured Children Strategic Planning Workgroup. He has served on the boards of the Halifax Chamber of Commerce, the Waterfront Development Corporation and the United Way of Halifax. He is a member of the Black Loyalist Heritage Society Board of Directors, and returned in 2016 for a second term on the Board of Governors of the Nova Scotia Community College (NSCC). NSCC awarded Mr. Southwell an Honorary Diploma from the School of Business in 2012. This is his first honorary degree.
Mr. Southwell receives his honorary degree on May 29, 2018. 
See the full list of Dalhousie honorary degrees being awarded this spring on Dal News.