News
»
Go to news main
Dalhousie appoints New Dean of Management
Posted by
Faculty of Management
on March 3, 2016 in
News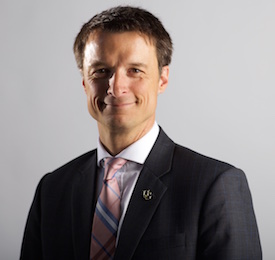 Dalhousie University's Faculty of Management has succeeded in its search for a new dean to replace interim dean Bertrum MacDonald who has been serving in the role since Peggy Cunningham stepped down at the end of her five-year appointment.
"We're very pleased to welcome Dr. Sylvain Charlebois to Dal as Dean of the Faculty of Management," said Richard Florizone, President of Dalhousie University. "Dr. Charlebois will hold a cross-appointment as Professor with Tenure in the Faculty of Management and the Faculty of Agriculture, commencing July 1, 2016."
Dr. Charlebois comes to Dalhousie from the University of Guelph, where he has served as Associate Dean, Research and Graduate Studies in the College of Business and Economics since July 2010. He served as Acting Dean of the College from December 2011 to June 2012; Associate Dean, Executive Programs from November 2012 to June 2014; and Associate Dean, Academics from December 2010 to October 2012. He also co-founded the Food Institute at the University of Guelph. Prior to joining the University of Guelph, Dr. Charlebois was Director of the Johnson-Shoyama Graduate School of Public Policy (Regina Campus), affiliated with the University of Regina and the University of Saskatchewan, and as Associate Dean of the Faculty of Business at the Kenneth Levene Graduate School of Business at the University of Regina.
Dr. Charlebois received a Doctorate in Business Administration from the University of Sherbrooke in 2005 (marketing channels and political economies), a thesis-based MBA from École des Sciences de la Gestion, UQAM and a Bachelor of Commerce from the Royal Military College in Kingston.
Over the past 15 years Dr. Charlebois has secured multiple SSHRC and CIHR grants, as well as funding from other sources. He has an extensive publication, presentation and consulting record. His research interests include marketing channels, food distribution, food safety, marketing boards, genetically modified organisms, vertical integration and political economies.