Accreditation
AACSB

Programs in the Rowe School of Business have been accredited by AACSB International (Association to Advance Collegiate Schools of Business).
Dalhousie joins a select group of Canadian schools that have been accredited.
This accomplishment distinguishes Dalhousie as an internationally benchmarked, premium business school ranking among the world's top-tier institutions.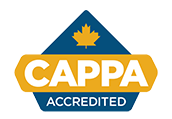 CAPPA
The School of Public Administration is accreddited for its Master of Public Administration [MPA] and Master of Public Administration (Management) [MPA(M)] programs from the Canadian Association of Programs in Public Administration (CAPPA). Accreditation from CAPPA is based on five key student competencies relating to critical thinking, leadership, engagement, ethics and communication.
ALA

Our MI (formerly MLIS) program has been accredited continuously by the American Library Association (ALA) since graduation of the first class in 1971.
Accreditation reflects the program's strengths relating to curriculum, teaching, research and facilities.

Most employers in the information profession require a degree from an ALA-accredited institution.

CEWIL
The Commerce Co-op program, the Bachelor of Management Internship program and the Corporate Residency MBA program are accredited by the Co-operative Education and Work Integrated Learning (CEWIL) Canada until December 2024.
Achieving these accreditation standards ensures that the programs have a credible and valuable co-op educational strategy.