Interprofessional Health Education (IPE)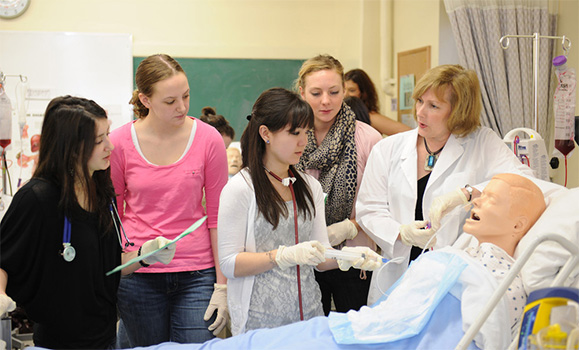 During the course of their studies, students will participate in an average of at least six different meaningful and relevant interprofessional collaborative learning experiences as determined and approved by the School (see the tabs below for a list of possible IPE activities). The experiences will include undergraduate/graduate students or professionals from a total of at least four different health professions with which there are natural affinities or linkages in the professional environment. At least one of these IPE experiences will be in a practice setting. Practicum placements often provide students with the opportunity to work on interprofessional teams. Interprofessional teams may include a variety of professionals such as parents/caregivers, teachers, resource staff, psychologists, early education specialists, occupational therapists, physiotherapists, otolaryngologists, and/or radiologists, to name a few.
In accordance with the requirements of SCSD, students will complete the IPE tracking form (see tab below) on an annual basis. The tracking form maps interprofessional collaborative learning experiences on to school requirements. The tracking form will be graded by the School on a Pass/Fail basis. Completed tracking forms should be given to the SCSD Administrative Secretary at the end of each academic year.
IPHE 5900: Interprofessional Health Education
Menu* of Interprofessional Activities SCSD 2020-2021

YEAR 1:
CMSD 5050: Fundamentals of Speech Science - Spirometry lab with Respiratory Therapy students (.5 unit) [SLP/AUD]
YEAR 2:
CMSD 6460: Treatment of Neurogenic Language and Cognitive Disorders – Stroke team IPE: Event 1: Team discussion of case; Event 2: Team evaluation of simulated stroke patients (1.0 unit) [SLP]
CMSD 6390: Voice/Resonance Disorders – Cleft palate team observation (.5 unit) [SLP]
CMSD 6612: Dysphagia – Feeding assessment observations that include SLP + a minimum of one additional team member (.5 unit) [SLP]
CMSD 6450: Speech Disorders in Adults – Case discussion and learning exchange session with OT, Recreation Therapy, Nursing, and S-LP students re: wheelchair skills and communicating with clients  (.5 unit) [SLP]
CMSD 6450: Speech Disorders in Adults – Case discussion and learning exchange session with Recreation Therapy students re: AAC apps (.5 unit) [SLP]
CMSD 6070: Topics in Audiology Procedures – Student Collaboration in Assessment of Vestibular Dysfunction: An Audiologist and Physiotherapist Case-Based Encounter (.5 unit) [AUD]
CMSD 5071X/Y – Clinical Methods – Audiology students work with clients and interact with other healthcare professionals (.5 units) [AUD]
YEAR 1:
Preschool Screenings – Speech-Language Pathology, Audiology, Dental Hygiene, and Occupational Therapy students conduct preschool screenings and collaborate during team rounds (1.0 unit) [SLP/AUD]
YEAR 2 & 3:
Practicum Placements – Students may be involved in interprofessional teams during practicum placements (variable) [SLP/AUD]
YEAR 1:
YEAR 2 or 3:
Student Facilitator role at First Year "Dalmazing" event in Interprofessional Education – Event 1 (1.0 unit) [2nd and 3rd year students only] [SLP/AUD]
IPHE Mini-Courses – (2.0 units) [SLP/AUD]
*Refer to IPHE Tracking form for graduation requirements and tracking values. Also, please note that activities depend on availability. Additional activities can be included with approval from IPHE Committee & Coordinator (Emily Balkam)

SCSD Courses
YEAR 1:
CMSD 5050: Fundamentals of Speech Science - Spirometry lab with Respiratory Therapy students (.5 unit) [SLP/AUD]
YEAR 2:
CMSD 6460: Treatment of Neurogenic Language and Cognitive Disorders – Stroke team IPE: Event 1: Team discussion of case; Event 2: Team evaluation of simulated stroke patients (1.0 unit) [SLP]
CMSD 6390: Voice/Resonance Disorders – Cleft palate team observation (.5 unit) [SLP]
CMSD 6612: Dysphagia – Feeding assessment observations that include SLP + a minimum of one additional team member (.5 unit) [SLP]
CMSD 6450: Speech Disorders in Adults – Case discussion and learning exchange session with OT, Recreation Therapy, Nursing, and S-LP students re: wheelchair skills and communicating with clients  (.5 unit) [SLP]
CMSD 6450: Speech Disorders in Adults – Case discussion and learning exchange session with Recreation Therapy students re: AAC apps (.5 unit) [SLP]
CMSD 6070: Topics in Audiology Procedures – Student Collaboration in Assessment of Vestibular Dysfunction: An Audiologist and Physiotherapist Case-Based Encounter (.5 unit) [AUD]
CMSD 5071X/Y – Clinical Methods – Audiology students work with clients and interact with other healthcare professionals (.5 units) [AUD]
Practice Experiences
YEAR 1:
Preschool Screenings – Speech-Language Pathology, Audiology, Dental Hygiene, and Occupational Therapy students conduct preschool screenings and collaborate during team rounds (1.0 unit) [SLP/AUD]
YEAR 2 & 3:
Practicum Placements – Students may be involved in interprofessional teams during practicum placements (variable) [SLP/AUD]
External Events
YEAR 1:
YEAR 2 or 3:
Student Facilitator role at First Year "Dalmazing" event in Interprofessional Education – Event 1 (1.0 unit) [2nd and 3rd year students only] [SLP/AUD]
IPHE Mini-Courses – (2.0 units) [SLP/AUD]
*Refer to IPHE Tracking form for graduation requirements and tracking values. Also, please note that activities depend on availability. Additional activities can be included with approval from IPHE Committee & Coordinator (Emily Balkam)