!!!NOTEWORTHY NEWS!!!
**Admissions Update REVISED**:  The School of Physiotherapy, in accordance with Dalhousie University's Covid-19 planning, will not resume face to face classes until the beginning of September 2020. Therefore, the interview has been cancelled for this year. The School will be using the CASPer and GPA, based on information received to date, to determine an admissions score. We will be making offers to candidates in early May, consistent with previous year's dates.

Please check this website for updates regarding admissions.

Teaching and Learning
Dalhousie's School of Physiotherapy programs, educate physiotherapists and scientists who excel in their profession through advanced education and research training in the rehabilitation sciences.
Endless Possibilities
A diverse range of exciting career paths are available to those who choose to become licensed physiotherapists. Still unsure if it's right for you? Watch Physiotherapy: Endless Possibilities to learn more.

Giving Back
There are many options for giving back whether it be a contribution to an existing fund, a one-time gift or a bequest. Consider making a donation online, or discuss alternative options, by contacting the School of Physiotherapy at (902) 494-2524.
Research
Physiotherapy is a diverse and interesting discipline involving the study of physical function of the human body in health and disease. Our faculty are known for their leading research in a diverse range of health advancements.
Clinical Community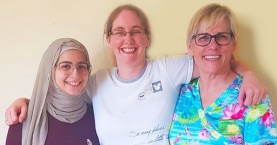 Clinical Instructors provide an invaluable service in shaping the future of Dalhousie's physiotherapy students. Keep up to date on clinical community news, resources and opportunities here.

Communities On Campus
We believe every person within the School of Physiotherapy has a right to be respected and safe and we support diverse and inclusive communities on our campuses. Check out our resources to see how you can get involved.