Teaching and Learning
Dalhousie's School of Physiotherapy programs, educate physiotherapists and scientists who excel in their profession through advanced education and research training in the rehabilitation sciences.
Communities On Campus
We believe every person within the School of Physiotherapy has a right to be respected and safe. We support diverse and inclusive communities and encourage you to get involved in one of the many communities on campus.
Research
Physiotherapy is a diverse and interesting discipline involving the study of physical function of the human body in health and disease. Our faculty are known for their leading
research
in a diverse range of health advancements.
Clinical Community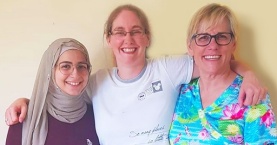 Clinical Instructors provide an invaluable service in shaping the future of Dalhousie's physiotherapy students. Visit the "PT Community" page for news on the clinical community, resources and opportunities.