News
»
Go to news main
Innovative Photo Exhibit Part of Project to Build Supports for Newcomers
Posted by
Terry Murray-Arnold
on January 17, 2020 in
News
"Karibu", "Boyé malamu", "Murakaza neza", "mukulike yo" and "bienvenidos" are just some of the ways Canadian newcomers and Picturing Recreation participants say "welcome".
Launched Fall 2019 at the Halifax Central Library, the Picturing Recreation photo exhibit  was the first step in Empowering newcomers for recreation leadership- a research project which aims to develop and implement an innovative leadership initiative to support newcomers in connecting to their community through culture and recreation.
This project is led by Dal Health faculty Dr. Heidi Lauckner (School of Occupational Therapy). Drs Karen Gallant and Susan Hutchinson (School of Health and Human Performance) are co-investigators. It engaged five community partners and over 30 newcomers who participated in a photo training session and then came together to discuss their pictures of meaningful free-time activities and how this helps them connect with their community.
 "We know from the literature and personal testimonies that resettlement can be challenging.  It is important to feel socially connected and to feel a sense of belonging, which can often occur through free-time activities, what we refer to as 'recreation,'" said Dr. Lauckner.
Picturing Recreation participants came to Canada from all over the world including the nations of Ethiopia, Eritrea, Congo DR, Syria, Somali, Afghanistan, Morocco, Bhutan and Guatemala.
The exhibit is intended to creatively capture culturally relevant recreation opportunities, as well as barriers and priorities, and to serve as a means of generating discussion about the benefits of recreation cross-culturally, as well as the unique barriers faced by newcomers in accessing recreation.
"Recreation is understood differently in different cultures, so we wanted this project to be grounded in the experiences of newcomers: What free-time activities were important to them? What helps them feel a sense of belonging in their new communities? What gets in the way?  Photos and discussions allowed us to engage in these conversations in a way that everyone present was learning," said Dr. Lauckner.
What's Next 
Working with newcomers, the project will co-create a leadership program that will develop the leadership capacity of newcomers to provide culturally relevant peer support for recreation participation. Newcomers taking part in the leadership program will then be mentored through volunteer and work opportunities supporting recreation engagement among their peers.
The project is funded by a grant from the NS Department of Communities, Culture, and Heritage Cultural Innovation fund. The School of Occupational Therapy provided some matched funding that made the grant possible. 
Project partners include Dal Health (Schools of Occupational Therapy and Health and Human Performance) as well as ISANS, Halifax Libraries, Halifax Immigration Partnership, HRM Recreation, and the South Shore Multicultural Association.
"This project couldn't have happened without the community partnerships. Our community partners work closely with newcomers and some are newcomers themselves, so they are aware of the daily lives – the challenges and the successes -  of people resettling," said Dr. Lauckner.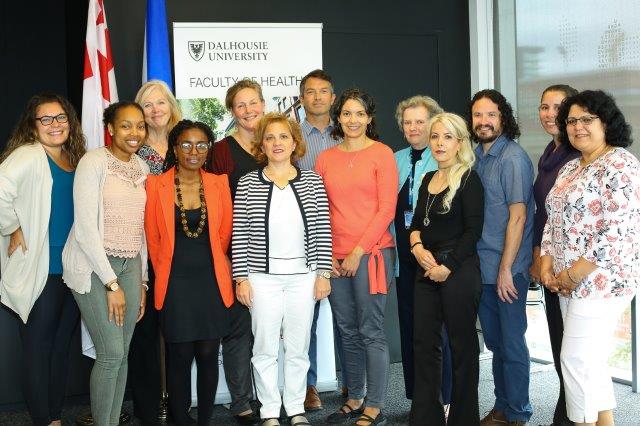 Photo: Bruce Bottomley. Back row L-R :  Cassie Manuel : Project Leadership Training Developer/ Facilitator - Dalhousie University, Susan Hutchinson:  Project Co-Investigator- Dal, Heidi Lauckner: Project Principal Investigator- Dal, Justin Huston: Deputy minister of Community, Culture and Heritage, Heather MacKenzie:  Manager - Diversity Services- Halifax Public Libraries, Roberto Montiel: Coordinator HRM Local Immigration Partnership- Office of Diversity and Inclusion / Human Resources, Lani Poce: Coordinator, Community Connections- ISANS, Gulmakai Muhammad. Sarvar: Chairperson of the Afghan Society of Halifax

Front row L-R: Sascha Hamilton-MillerI:  Co-chair of RAN, Praise Mugisho: Project  Participant, Honourable Lena Metlege Diab: Immigration Minister, Karen Gallant: Project Co-Investigator- Dal, Mary Akbari: Project Coordinator- Dal