Joan Evans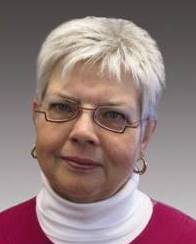 MN (1994)
Dr. Joan Evans is Professor and Director of the Communications Skills Program in the Division of Medical Education, Faculty of Medicine at Dalhousie University. She received her Master of Nursing in 1994 and her PhD in Education in 2001, both from Dalhousie University.
Prior to joining the Division of Medical Education in 2006, she was a faculty member in the Department of Nursing, St. Francis Xavier University (1997-1999) and in the Dalhousie School of Nursing (1999-2006) where she also served a term as the Associate Director Graduate Programs.
Extensive and varied nursing practice
In addition to extensive teaching experience at the undergraduate and graduate levels in both the classroom and clinical settings, Dr. Evans has practiced nursing in community, occupational and emergency settings. She has also been an outpost nurse in isolated First Nations communities, a medical officer with the Canadian Coast Guard, an ER nurse, and an oil rig medic on national and international oil exploration projects.
Nationally funded
Her experience in high risk, traditionally male-dominated environments provided the catalyst for her program of research and several publications in the area of gender, masculinities, occupation and health. She is a nationally funded scholar in this area and projects include: Building a Health Research Network for Men, Masculinities and Health (CIHR); Contradictions and Tensions in the Lives of Men: Exploring Masculinities in the Numerically Female-Dominated Professions of Nursing and Elementary School Teaching (SSHRC).
Enhancing communication
As Director of the Communication Skills Program, Dr. Evans is responsible for the ongoing development, implementation and evaluation of communication skills training across the continuum of medical education. She chairs a national interest group focused on enhancing communication content in Canadian medical curricula. She also provides workshops to assist medical and dental faculty to further develop their skills as teachers and collaborators. Her research related to communication includes funded projects addressing communication dynamics between medical residents and other members of the health care team and communication skill development needs of undergraduate medical learners.
Recipient of numerous awards
Dr. Evans has received numerous awards and recognition for her contributions, including teaching awards and twice invited by the senior undergraduate class to deliver the keynote speech at their graduation banquet at Dalhousie (2002) and at St. Francis Xavier University (1999). She was nominated for the Dalhousie University, Faculty of Health Professions Teaching Excellence Award, by Master of Nursing students (2006).