News
»
Go to news main
The School of OT presents the 18th Kelly Bang Memorial Lectureship
Posted by
Kathy MacFarlane
on October 20, 2021 in
News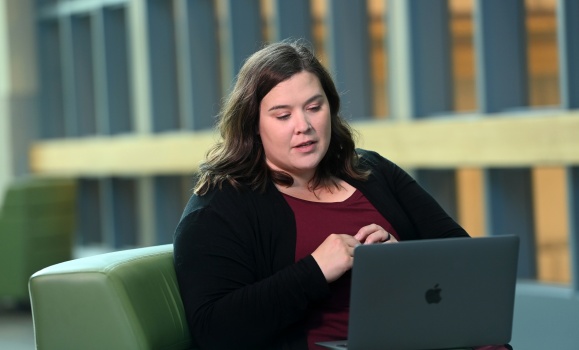 Advocacy as community - Reflections and lessons learned as an Indigenous occupational therapist
Before entering occupational therapy, Kaarina Valavaara spent a year in an Indigenous youth internship program in the British Columbia Public Service where she was surrounded by amazing Indigenous leaders and mentors who instilled in her the importance of using her privilege in education to serve their communities. "I know many Indigenous Peoples do not have the ability to complete post-secondary education, including graduate-level training, so I have always felt a sense of responsibility to use that education in a way that benefits Indigenous communities," she says.
As a student at the University of Alberta's Faculty of Rehabilitation Medicine, she joined the Occupational Therapy and Indigenous Health Network where she says at the time, "I was the only self-identified Indigenous student and didn't always see my experience reflected in the curriculum."  She found a sense of purpose in connecting with other OTs interested in Indigenous Peoples' health and found some amazing mentors who continually pushed her outside of her comfort zone to participate in presentations, publications, and advocacy efforts.
"I was the only self-identified Indigenous student and didn't always see my experience reflected in the curriculum."
"Eventually, I started to believe that I had something to contribute to the profession and could combine my undergraduate knowledge, lived experience as a Métis woman and occupational therapist to help educate those who may not know much about the ongoing impacts of colonization on Indigenous Peoples' health and help co-create strategies for reconciliation within OT," she says.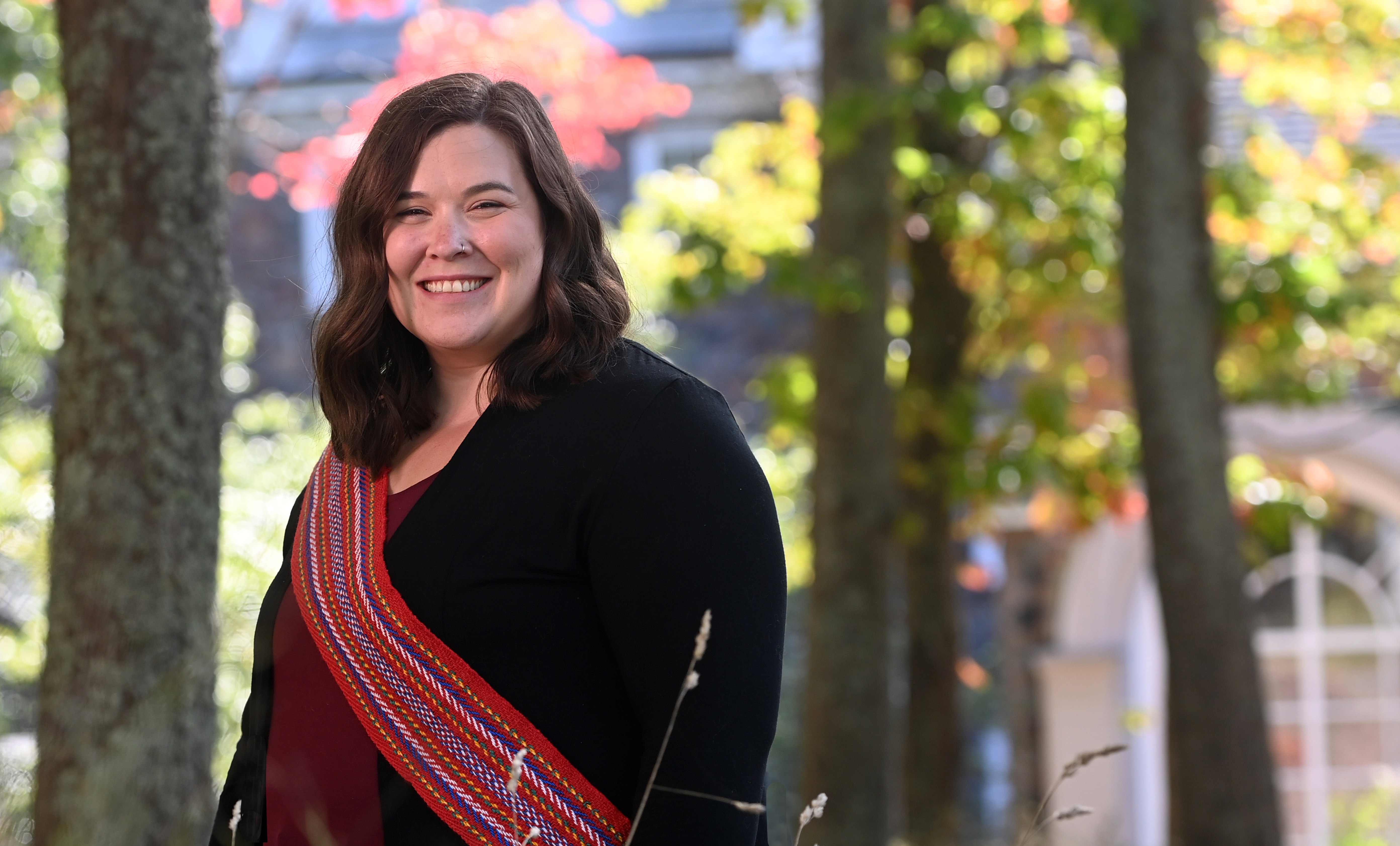 Kaarina received her Métis Sash as part of her graduation in Native Studies in 2008 and carries a sense of Metis pride and connection to her history. Her Metis ancestors were involved in the fur trade and it connects her back to the days where they would have utilized garments like this in a variety of manners- ropes, blankets, first aid - as part of their work on the land. Click here for more info on the Métis Sash. Photo credit: Danny Abriel 
In 2011 Kaarina graduated with an MSc in Occupational Therapy. As a new graduate, she stepped up to volunteer to chair the Occupational Therapy and Indigenous Health Network. "Looking back, I had no idea how to organize a teleconference (I'm that old…no zoom then), facilitate a meeting, or take minutes. I know I made mistakes and had a huge learning curve but hope I kept some momentum going," she says.  But things got better through collaboration, sharing the work, and balancing skills and gifts, and that is when, "I found my voice and role as an educator and advocate," she says.
In 2017, Kaarina and Métis colleague Angie Phenix were invited to speak to a selection of leadership from all facets of occupational therapy such as educators, practice, regulators at their annual reflection/planning day. "Having their undivided attention for a day and being able to share how colonialism has and continues to impact the occupational possibilities of Indigenous Peoples and being able to encourage them to start thinking about how to make changes in their spheres of influence, I felt like we finally had the right people interested to start making substantial changes. Our platform and ability to be at more tables where decisions are made within OT changed after that day for the better."

Kaarina has been advocating with the Occupational Therapy and Indigenous Health Network for 10 years. In response to the Truth and Reconciliation Commission of Canada (TRC): Calls to Action, "I have seen a substantial and optimistic shift in increasing awareness that occupational therapy needs to turn a lens on itself to understand how the 'status quo' may be oppressive to Indigenous People. There is still much work to be done in terms of translating that awareness into practical, meaningful changes in our day-to-day work as occupational therapy education, research and practice but I feel that the scales have tipped, and momentum is growing. We are fortunate in Canada that overwhelmingly occupational therapy leaders and educators recognize the importance of responding to the TRC Calls to Action but now the hard work begins when we look at changing how we practice, how we assess clients, build relationships, fund services, etc."  
As a clinician Kaarina finds her job rewarding, "when I can use our skills in activity analysis to collaborate with a client to break down what feels like an overwhelming task to them into something manageable, even if it as simple as a bath seat so someone can feel safe going home from the hospital, I find it rewarding that I can make a small difference during a challenging time for someone."
As an advocate and educator, she loves when, after a lecture or class, students or colleagues feel disrupted and full of ideas that they can't quite put together.  "Any work around reconciliation and decolonization are inherently uncomfortable, messy, and challenging and if we get too comfortable as health care providers, then we are not open to learning from Indigenous Peoples and communities."
Having worked 'off the side of her desk' advocating for changes in the OT profession to be more equitable for Indigenous Peoples her entire career, Kaarina hopes her lecture will encourage and maybe even challenge other clinicians who may not feel they have the skills or clout to make a change. "Through sharing my story, I hope to challenge those in leadership who have influence to make space and support future Indigenous OTs so they can see their experiences reflected in occupational therapy curriculum, research, and practice and don't feel they have to compartmentalize their culture and experience to be an effective, evidence-informed OT."
"I think students and clinicians who see the need for equity in their practice area but may not 'see' a path or may feel intimidated in taking the step to tackle big challenges of equity and reconciliation may benefit from hearing my story and some ideas of how to get involved — without a Ph.D. or a fancy title."
Kaarina values the importance of finding and working in community when you are seeking to advocate for change. She will share ideas and the importance of how the OT profession can make meaningful progress on reconciliation and justice alongside Indigenous Peoples. "I become an advocate out of necessity — not because it was a conscious choice but because I had a sense of obligation to my community to improve how occupational therapists practice and support Indigenous Peoples and communities. "
Having recently relocated to Nova Scotia, we are very pleased that Kaarina can provide the lecture in person, but it will also be live streamed for the larger virtual community.
The 18th Kelly Bang Lectureship is scheduled on Thursday, November 18, 2021 from 7:00 pm - 8:00 pm AST. Register now to attend the in-person lecture or to receive a link to our virtual livestream.
-----------------------------------
The Kelly Bang Lectureship celebrates the memory of Kelly Bang, a nationally known occupational therapist, lecturer, writer, artist and counselor for survivors of child and sexual abuse. The memorial lecture was established by her family to honour those whose research, practice, teaching and advocacy advanced opportunities for women and other marginalized adults within their communities.