News
»
Go to news main
Dal Health researchers and partners launch ACCESS cancer study
Posted by
Dawn Morrison
on December 10, 2018 in
News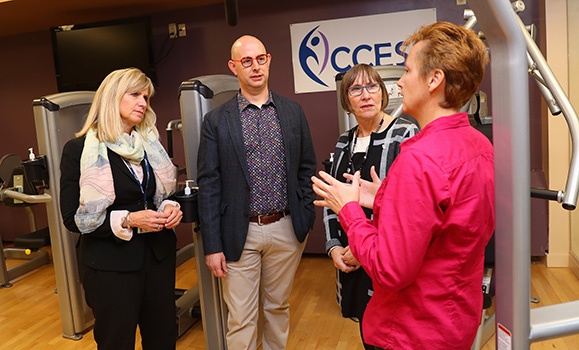 An innovative, new research study led by Drs. Melanie Keats and Scott Grandy (School of Health and Human Performance) in partnership with the Nova Scotia Cancer Care Program is making strides in bringing exercise more closely into cancer treatment and care.
On November 30, researchers from the Faculty of Health and leaders from the Nova Scotia Health Authority launched ACCESS (Activating Cancer Communities through Exercise Strategy for Survivors). The program is designed to lessen the impact of a cancer diagnosis and treatment on participants, and improve their wellbeing.
Dr. Keats is the principal investigator of the study. She knows first-hand how destructive a cancer diagnosis can be. "As a three-time cancer survivor, I have confronted significant challenges throughout my life," she says.
"Physical activity and exercise helped me to take charge of my own health and wellbeing. Although I continue to experience long-term effects from cancer and its treatment, being active helps me cope better, mentally and physically. I hope ACCESS will be a stepping stone to help other cancer patients and survivors improve their quality of life too."
Strong cross-sector partnerships for improved health
"ACCESS is a great example of how strong cross-sector partnerships in health research and innovation can lead to an immediate impact on the health and wellbeing of Nova Scotians living with a cancer diagnosis," says Dr. Cheryl Kozey, Acting Dean, Faculty of Health.
She notes that initiatives like ACCESS align well with the Integrated Health Research and Innovation Strategy (IHRIS), a pan-provincial partnership among universities, the health authorities, government, the private sector and the public. IHRIS's goal is to create solutions to improve health and healthcare across the province.
"Congratulations to Melanie and Scott for their perseverance and belief in the power of physical activity and exercise to improve not only mobility and physical health, but for the positive impacts on mental wellbeing and quality of life of their participants."
Valuable experiential learning opportunities for students
The program is also providing important opportunities for Kinesiology and other students to work directly with patients. Jeffrey Zahavich is a 3rd year PhD in Health candidate. "My sister passed away from cancer at age 22," he says. "Being part of a program that can help those going through treatment has been pretty amazing. I hope ACCESS continues beyond the two-year feasibility study."
There have been over 50 referrals to the 12-week program. Cancer patients and survivors who want to be part of the program must be over the age of 18, and have a referral from their doctor. A certified exercise physiologist will assess each participant, and provide them with a tailored exercise plan, which is modified during each session based on how the participant is feeling that day.
The study is a partnership between Dalhousie, NSHA, QEll as well as research partners Drs Nicole Culos-Reed (University of Calgary) and Margaret McNeely (University of Alberta), co-principal investigators of the Alberta Cancer Exercise initiative. Funding partners include the QEll Foundation, The Canadian Centre for Applied Research in Cancer Control (ARCC), and the Quebec Breast Cancer Foundation. It is hoped the program will be expanded to other parts of the province as more funding becomes available. Programming is scheduled to start at both the Canada Games Center in Halifax and the Rath Eastlink Community Center in Truro, in January.
Earlier this year, Drs. Keats and Grandy were the winners of the Dragons' Den competition, sponsored by the QEII Health Science Foundation. They received $50,000 to implement ACCESS.
"It's a wonderful program, and it works."
The news conference featured the Honourable John Buchanan, former Premier and ACCESS participant. He says while skeptical at first, he now notices an improvement in his energy after just a month. "ACCESS, through its exercise program, has helped me greatly to cope with cancer limitations and day-to-day activities," he says. He is taking part in ACCESS while being treated for prostate cancer that metastasized to other parts of his body in 2016.  "I endorse it. I think it's a wonderful program, and it works," he says. "I'm a living example."
Cancer patients or survivors what want more information on ACCESS can email access.wellness@nshealth.ca or call (902) 473-2035.