News
»
Go to news main
Health Fun Run Challenge
Posted by
Trudi Smith
on August 8, 2018 in
News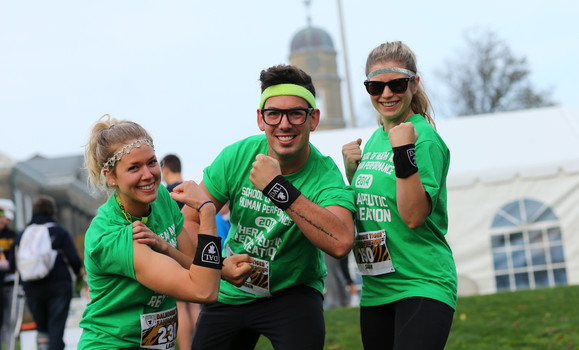 Saturday, September 29th, 2018
8:00 - 11:00 am
Studley Quad
Dalhousie is celebrating its 200th anniversary and we want to make the President's Fun Run/Walk - Faculty of Health Challenge more fun than ever before! The run takes place on Saturday, September 29th as part of Homecoming 2018.
As the 5th year of the Health Challenge, we are challenging our Faculty units to engage their alumni – they will help with your success at bringing home the highly-coveted President's Fun Run/Walk Alumni Cup which we hear the school of Health Sciences will be working hard to keep!
The Faculty of Health challenges each Health unit to show their Dal and school spirit by submitting the best team to the President's Fun Run/Walk. As an added challenge this year we also invited the Faculties of Medicine and Dentistry into our Health Challenge. So let's make sure the cup stays with Health!
The Challenge details:
Each Health unit recruits a team to participate on race day – Saturday, September 29th. Teams are evaluated based on a set of criteria. The winning team wins $500 towards a school social/activity.
 
The President's Fun Run/Walk is a three-campus run, jog, walk or stroll for the whole family, followed by post-run refreshments in the on-site tent.
The Challenge criteria:
BICENTENNIAL CHALLENGE points: Each year a new challenge is issued for points and this year the Faculty challenges each unit to produce a video directed at encouraging alumni, faculty, staff and students to participate this year in the challenge.
Videos will be posted on-line and through social media and will gain points by the number of likes they each receive, while engaging students, alumni and other supporters.   
The video can be produced by the director's office, student society, fun run enthusiasts, or whatever group you wish within your unit.
Video guidelines:
Maximum length is 2 minutes
Points will be awarded for group involvement, use of alumni, use of props, 200th anniversary inclusion and general spirit
Deadline for video submission: September 15th
Posted and open to likes from Sept 19th-26th
STANDARD CHALLENGE points will also be awarded for:
Representatives from all members of your unit community: students (at least one from each program), staff, faculty, Director (or Associate Director),
Alumni from different grad years, total number of alumni, alumni association executive member, double alumnus, international alumnus,
Incorporation of a profession-related prop,
200th anniversary inclusion,
Visible expression of School and Dal spirit - this could take the form of t-shirts, Dal colours, costumes - the sky's the limit!
How does your team win?
It's simple:
Sign up your unit now. Each unit will be asked to name a Team Captain.
A meeting will be held with all the Team Captains for input in making the challenge super fun and fair for all units by determining the criteria.
Produce your Video Challenge and we will send to all your alumni.
Register for the race on-line (you'll be prompted to note your School team during registration)
Take part in the President's Fun Run/Walk during Dal Homecoming.
For more information or to submit your video:
Kathy MacFarlane
Faculty of Health - Alumni and Donor Relations Officer
Kathy.macfarlane@dal.ca
902-494-4219