News
»
Go to news main
School of Health Sciences collaboration with Norwegian university provides students and faculty with international clinic and research experience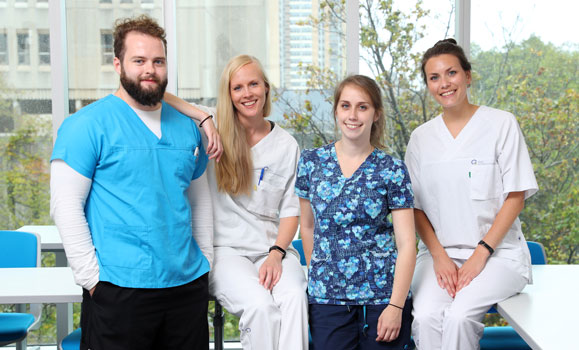 As the school year begins for most students on Dalhousie's campuses, two exchange students from Norway are preparing to return to Oslo after spending three months in Halifax. Hanna Engebretsen and Tess Urdahl, 3rd-year radiography students at the Oslo and Akershus University College of Applied Sciences (HiOA), are the first students to benefit from a new exchange program between HiOA and Dalhousie's School of Health Sciences (SHS).
Building international partnerships
The partnership allows students and faculty members at both universities to take part in international education experiences and to participate in a collaborative research project examining protocols and radiation dose in neonatal chest imaging.
Funding from the Norwegian Centre for International Cooperation in Higher Education (SIU) will support four exchanges over two years. In April 2017 the project co-leads, Catherine Gunn, radiological technology faculty, and Carol Gillis, SHS director, travelled to Oslo to develop joint curriculum and plan the clinical exchange. Safora Johansen, Associate Professor at HiOA, will visit Dalhousie next year.  
The goals of the project are to establish a short-term mobility program with both the university and local hospitals, and to create a joint curriculum that exposes students in both countries to different health care systems and cultures.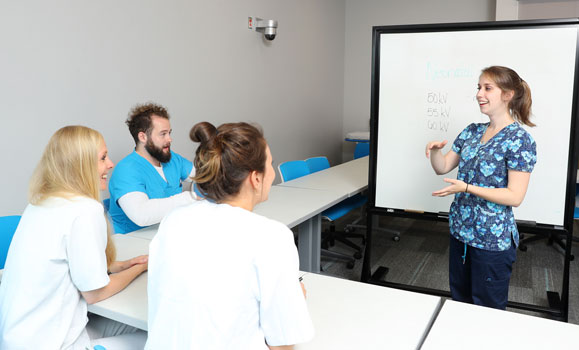 Learning about variances in practice
Hanna and Tess arrived at Dalhousie in June to start their clinical placements at the QEII Health Sciences Centre (both the Halifax Infirmary and Victoria General sites) and at the IWK Health Centre. Experienced travelers, they jumped at the chance to participate in the exchange.
"We've both done exchanges in developing countries, which was very interesting, but hard to transfer to life back home," Hanna explains. "We were certain we wanted to do an exchange this time too, but in a western country, and Canada was the top choice for both of us."
Throughout their exchange, the aspiring radiological technologists have worked with a variety of modalities including CT, MRI, interventional radiology and general imaging and participated in an international project that involves researchers in Norway, Canada, England, Portugal, Australia and South Africa collecting data on neonatal chest x-rays.
They've also been introduced to other health professions that don't exist in Norway, such as respiratory therapists and sonographers. During their exchange, they've noticed a number of other differences in health care between Canada and Norway.
"The main difference is the machinery, getting used to new equipment and computer systems," says Tess. "We [also] find that there is more paperwork here, we are used to a more or less paperless hospital."
"The workflow is a little different," Hanna adds. "It is usual in Norway to be in only one lab each day, with a list of patients that you don't share, and the patients are usually scheduled instead of drop-in."
Both students have made suggestions for new equipment that could be used in the Halifax hospitals, and have discovered other practices that can be transferred to their own hospitals in Oslo.
Another difference they've noticed is the uniform policy in Canadian hospitals. Unlike in Canada, Norwegian hospitals provide scrubs to all their employees.
"Everyone working in a Norwegian hospital wears white; techs, nurses, porters, doctors. All white," says Tess. "So we have had a lot of fun buying our own, colourful scrubs!"

Exploring the profession
Dalhousie students Yvelle Pothier and Mark Parker will travel to Oslo this month to complete reciprocal clinical placements. For them, the exchange will provide an opportunity to learn more about their chosen profession and to see how their Norwegian counterparts approach different parts of the job.
"I'm really excited to learn how different and similar their diagnostic imaging department is compared to ours in Canada," says Yvelle, a 4th year student in the Bachelor of Health Science (Radiological Technology) program.  "I'm hoping to learn new methods to position patients for their X-rays and if they have different methods in radiation safety."  
Mark concurs. Through clinical placement in different units – such as general radiography, computed tomography and magnetic resonance – Mark, also in his 4th year of the Radiological Technology program, hopes to learn about differences in practice between Canada and Norway and expand his abilities.
"I'm hoping to gain insight into a different healthcare system than the one I have studied and become accustomed to," he says.
Both Yvelle and Mark look forward to being part of the research study during their time in Oslo. While there, they will be conducting data collection with a neonatal phantom to help determine the lowest radiation dose for chest x-rays on neonates.
Advancing the profession
For the School of Health Sciences, this project complements another exchange program available to upper year students in the UK. With an eye toward the many benefits of international work and research experience, the project co-leads hope these exchanges are the first in an ongoing partnership.
"Ideally, we would like to make this a long term exchange, hopefully for a full term in the final year of study," says Catherine.  "Opportunities such as these, involving both academic and clinical partners, facilitate international knowledge transfer. As a result, we have the potential to further develop the profession, change practice and improve patient care."