News
»
Go to news main
"Don's Team:" How a fictional patient teaches real lessons in collaboration
Posted by
Piper MacDougall
on February 27, 2017 in
News
For an indepth look at this year's Health Care Team Challenge, student journalist, Piper MacDougall, shadowed Team #2 to see how the students prepared for and addressed the Challenge.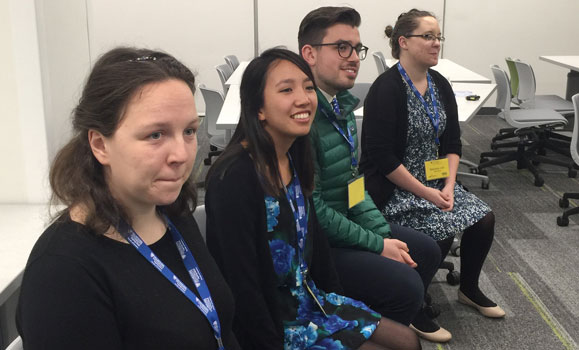 The third annual Healthcare Team Challenge (HCTC) took place at Dalhousie University's Collaborative Health Education Building (CHEB) on January 26, 2017. Hosted by Dal, the IWK Health Centre, and the Nova Scotia Health Authority, the HCTC is a friendly competition between interprofessional teams of students that showcases interprofessional competencies and person-centred care. The Challenge consists of three components: a teamwork and skill building exercise, analysis of a fictional patient based on limited information, and then reassessment of that patient's needs based on last minute information received on the day of the Challenge.
"Interprofessional events as a whole are about learning with, from, and about each other, by working together as teams," says Interprofessional Education (IPE) and challenge Coordinator, Noel Pendergast. "Initiatives like this aim to help students learn how to work as a team when they go out in their professions."
Two weeks prior to the challenge, teams were created, introduced and given a summary of their fictional patient, Don. Don's file included background on his lifestyle, results from a physical exam, his past medical history and medications. 
Teams were encouraged to meet before the Challenge to discuss Don's care priorities, which health professionals he would need access to, and the social determinants of his health.
Challenging and Collaborating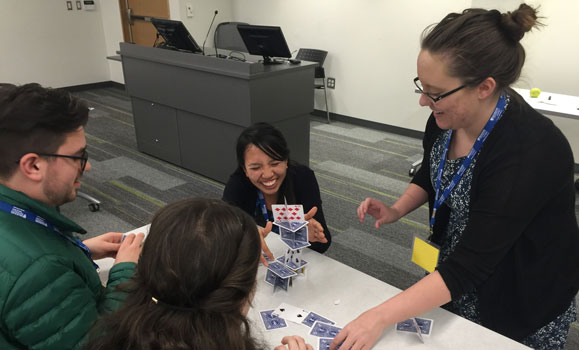 On the day of the Challenge, Team #2 – who from the get go had a great team dynamic and collaborative style – got straight down to business.
Comprised of Remmington Shandro (1st year Audiology), Nancy Nguyen (2nd year Accelerated Nursing), Marissa Ley (1st year Medicine) and Anna Braunizer (1st year Occupational Therapy), the team came prepared. They brought medical and exercise equipment, a whiteboard and markers. Once settled, they quickly began to share their ideas for the presentation and write them out on cue cards. 
"We met twice before today, so I think we have a good idea of the answers," Nancy explained.
The team decided to break up into subgroups, Remmington and Anna worked together on one half of the presentation, Nancy and Marissa on the other half. They hoped this strategy would work well for their team of "vocal leaders." Afterwards, they come back together to combine their progress.
For their teamwork and skill building challenge, each team was given a deck of cards and a pair of scissors, and asked to construct the tallest tower. This challenge assessed their ability to work as a team in a time-sensitive setting.
Team #2 took suggestions from one another before beginning to construct their card tower. While part of the tower fell down, their effort and ability to work together earned them points for teamwork.
Following the card tower exercise, Team #2 came back to work on part two of Don's case. At this point, each team was given information regarding Don's social history, family history, socioeconomic means, and current lifestyle. From this, the team was able to identify previously unsuspected challenges with Don's current healthcare plan, create two strategies to tackle Don's challenges and finalize their presentation.
To cap off the night, each team gave a five minute presentation on their assessment of Don's situation and recommendations for moving forward
"We have the background knowledge and we just have to wonder if we will use our five minutes effectively," said Remmington, as they finished their preparations.
Team #2 was the last of six teams to present. "We managed to cover everything we wanted," said Marissa as they returned to their seats.
Team #1 ended up on top. Their clarity, communication and clear collaboration helped them create a rounded healthcare plan for Don. However, Team #2, with their homemade signs saying "Don's Team," was a crowd favorite.