Leadership in Continuing Care
"Great nursing homes start with great leadership"
Hon. Barbara Adams, Minister of Seniors and Long Term Care
Enhancing expertise in Continuing Care Administration
Wednesday 17th November, 2021
The School of Health Administration, Dalhousie University, and the Nursing Homes of Nova Scotia Association, are thrilled to have launched this new Certificate program for executives and administrators within the Continuing Care Sector.
On Wednesday 17th November the Honorable Barbara Adams, Dalhousie Alumnus and Minister of Seniors and Long Term Care, met with instructors and participants of this important new venture which will drive up standards of delivery across Nova Scotia's Continuing Care sector.   
Describing our program curriculum as "awesome", the minister shared her recollections from personal experience in the sector, including her recent volunteer support during the Covid-19 pandemic, noting that "there is nothing harder than working in long term care."  In closing her warmly received remarks, Minister Adams reiterated that "great nursing homes start with great leaders", a sentiment very much at the heart of this ambitious new program.  
"Health leaders today face tough challenges. This intensive executive certificate blends academic rigor with extensive front-line expertise to provide continuing care leaders with the knowledge and skills they need to meet those challenges."
Dr Tanya Packer, Director - School of Health Administration
Dr Tanya Packer
Director, School of Health Administration
Dr Brenda Merritt
Dean, Faculty of Health
For this first iteration of the program the cohort incorporates Senior Directors, Administrators and Managers from across the province, and from both non-profit and profit organizations: there is also a waiting list in place for 2022.  Over six days of intensive study and discussion, the participants will hear from an exceptional range of industry experts and academics including former Deputy Minister of Health, Kevin McNamara.  Instructors will provide models of best practice in the core areas of Continuing Care administration: financial management, legislation and licensing, HR & Communications, and operations & continuous improvement.  These different strands of discussion will be tied together by an overarching focus on the Philosophy of Care, and how the principles of effective, empathetic provision should underpin the day-to-day running of their organizations.  A range of Healthcare leaders from across the province added their support to the venture which addresses a clear demand across the industry.
"This is a great opportunity for leaders to develop skills for this complex healthcare environment.  Succession planning is an important strategy for any organization…developing leaders within the sector will help fill upcoming senior management positions and grow talent  to support world class LTC."
Debra Boudreau, CEO Tideview Terrance Nursing Home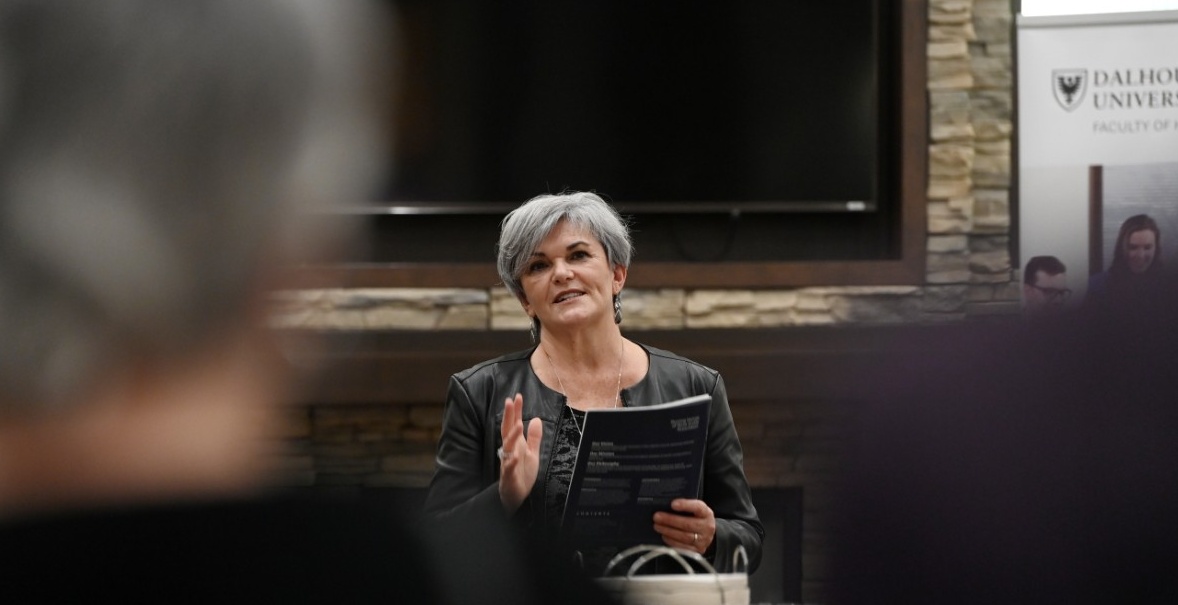 "Building capacity among our emerging leaders is critical: this program reflects the commitment our sector leaders have made to continuous quality improvement."
Michele Lowe, Executive Director - NHNSA
If you would like more detail about the content and scheduling of the Certificate program, or are interested in future iterations of the course, please do not hesitate to contact Mike Moore, the course coordinator.
The Course Content
Wednesday, 17th November
Philosophy of Care
Susan Stevens & Dr. Amanda Porter
The Leading Self
Dr. Scott Comber
Thursday, 18th November
Leadership in LTC
Sytems and Relationships: Linda Verlinden
External Stakeholders: Dr. Scott Comber
Friday, 19th November
Legislation & Licensing
Kiersten Amos
Agencies and Board Governance
Carla Anglehart & Susan MacDougall
Wednesday, 24th November
H. R. & Communications
EDI with Dr. Ashley Flanagan and Marketing & Communication with Mary Donovan.   
Unions, Licensed Employees, Compensation and Benefits with Kiersten Amos
Thursday 25th November
Financial Management in LTC
Brenda Ennis & Laura Scott
Operations & Cont. Improvement
Dion Mouland
Friday, 26th November
Operations & Cont. Improvement
Dion Mouland, Mike Moore & Terry MacIntyre
Embedding Philosophy of Care
Kevin McNamara & Joyce d'Entremont
Further details for Fall 2021
17th, 18th & 19th November, and 24th, 25th & 26th November
8 am - 4.30 pm
Hampton Inn, Dartmouth, NS
The total course fee of $5,600 includes: 
6 days of intensive, expert tuition from leading industry and research figures
All course materials and online resources
Certification of your qualification from Dalhousie's School of Health Administration
Lunches & Daily refreshments
Formal Reception - Wine/beverages/canapes
Access to a developing professional network of Continuing Care Leaders
Please read the following notes on admission criteria:   
To preserve the quality of instruction, this event is strictly limited to 20 participants, with priority given to those currently leading Continuing Care facilities in a CEO or equivalent position, and who are sponsored by Nova Scotia and/or a long-term care facility.  To reflect the discursive quality of the certificate program, we shall endeavour to select a student cohort with a diverse range of experience.  We therefore reserve the right to finalise selection criteria once all applications are submitted.  We will carry forward the applications of suitable but unsuccessful candidates for enrollment in future iterations of the certificate program.
Additional admission requirements:
Completion of a four-year undergraduate degree (or equivalent) in any discipline. The registration form requires you to indicate pervious academic experience including institution, degree and dates attended. By signing and submitting the application, you are attesting to the authenticity of the information provided. Since this is a non-credit certificate, you are not required to submit transcripts.   Note: The requirement for a four-year degree is consistent with the Nova Scotia provincial legislation regarding qualifications of a CEO in a long-term care facility.
Provision of a statement of career objectives which sets out the relevance of the Certificate to those goals:  there is no prescribed format but you may wish to consider the detailed learning outcomes, below.
If employed in long-term care, a letter of support from a suitable individual with oversight of your role, outlining benefits to the organization and confirming their commitment to provide leave for you to participate.