News
»
Go to news main
Dal's Emera IDEA and Richard Murray Design buildings achieve LEED Platinum status in first for the university
Posted by
Matt Reeder
on October 26, 2023 in
News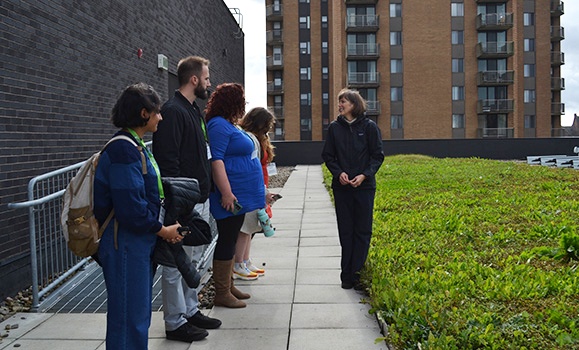 One of the greenest academic buildings in Canada has a nice ring to it. Two of the greenest sounds even better.
Dalhousie can lay ownership to such claims now after its Emera IDEA and Richard Murray Design buildings on Sexton Campus achieved LEED Platinum status this fall, the first time the university has received such a lofty certification.
"This is the highest possible classification and a true testament to the commitment Dalhousie makes to ensuring sustainability in the built environment," said Dr. Yi Liu, acting dean in the Faculty of Engineering, at an event on the downtown campus Wednesday where she officially announced the news.
This Platinum certification from the globally recognized Leadership in Energy and Environmental Design (LEED) program vaults Dal into a new orbit with a small group of other post-secondary peers in Canada leading the way in green building.
"To illustrate how remarkable this achievement is, there are only two other LEED academic buildings in [all] of Canada," said Dr. Liu. "And these two buildings are two of less than a dozen locations with this certification in Nova Scotia."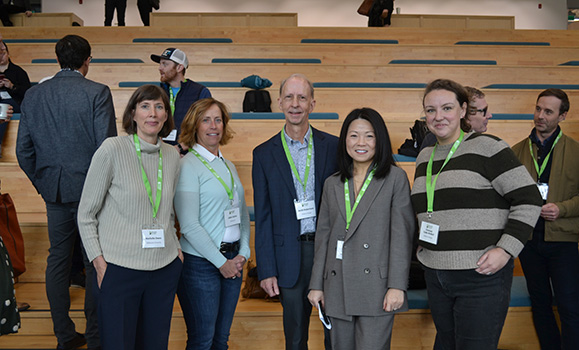 Left to right: Rochelle Owen and Julia Cairns of Dal, Keith Robertson of Solterre Design, Faculty of Engineering Dean Dr. Yi Liu, and Chelsea Code-McNeil of Solterre Design.
Behind the achievement

The two adjoining buildings on Dal's downtown Sexton Campus boast the second-largest rooftop solar installation in Nova Scotia with 469 panels, high-efficiency building envelopes, triple-glaze windows, a large 60-well geo-thermal installation buried beneath the campus soccer pitch, and dozens of other green features.
"Overall, these features and the many others deliver more than 70 per cent energy savings compared to an average educational building," explained Dr. Yiu.
The Emera IDEA and Richard Murray Design buildings — which first opened for use in 2018 as part of the $64-million IDEA Project that revitalized Sexton Campus — join a growing list of LEED-certified facilities at Dal that also includes 10 building projects with at least silver or gold status. In 2010, Dal adopted a Green Building Policy that mandated all building projects aim for the highest certification possible.
The LEED scorecard for the Emera IDEA and Richard Murray Design buildings shows Dal accrued a total of 82 out of a possible 110 available. Platinum is awarded to buildings with 80 points or above.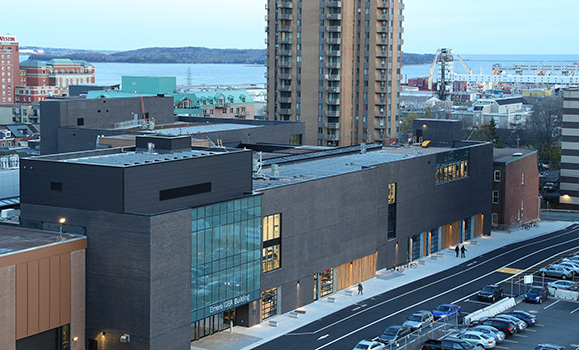 The Emera IDEA Building. (Nick Pearce)
Dal achieved full or close to full points on several crucial measures as part of the assessment, including Optimize Energy Performance, Water Use Reduction and Alternative Transportation.
"It was our energy credits that pushed us over. In the energy credit, we almost reached maximum points," explained Rochelle Owen, director of Dal's Office of Sustainability, during a tour of the buildings' green features on Wednesday.
Owen said Dal targeted Platinum certification for the Sexton Campus buildings as a 'stretch goal' during construction and beyond, and that evidence and data gathered as part of the LEED assessments — called measurements and verification credits — brought good news.
"If you pursue measurements and verification credits, as we always do, then you have to wait for your data to analyze and see whether your energy model matches your performance. In our case, it did," she said.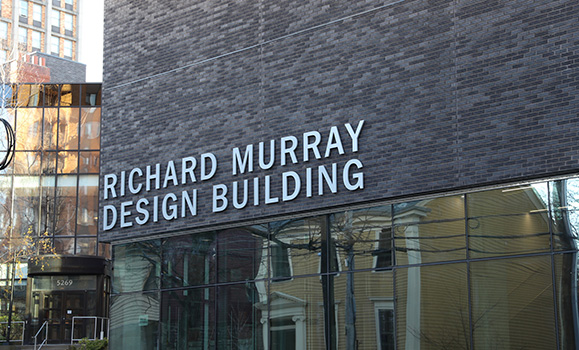 The Richard Murray Design Building. (Nick Pearce photo)
Last year, the buildings were awarded first place worldwide in the Educational Facilities — New category at ASHRAE's 2020-2021 Technology Awards, an international competition celebrating energy efficiency and sustainability in building design.
'A shining example'

Dal's success was the result of years of planning from many forward-thinking individuals at Dal and partner organizations, said Dr. Liu.
"It is the culmination of the work with our external team, many of whom are Dalhousie alumni, our design and construction team led by Dalhousie's Department of Facilities Management, our Sustainability Office, faculty partners and many others," she said.
Dal's news was announced as part of a launch event for Building to Zero, a new initiative bringing various stakeholders together to build the capacity needed to grow the number of net-zero buildings in Nova Scotia. Net zero means a building produces enough renewable energy to meet its own annual energy consumption requirements.
As Alisdair McLean, executive director of non-profit consultancy Net Zero Atlantic and emcee for the event held in the design commons in the Richard Murray Design building, said following the news: "This space is a shining example of what we'll be developing here in Nova Scotia when we work collectively."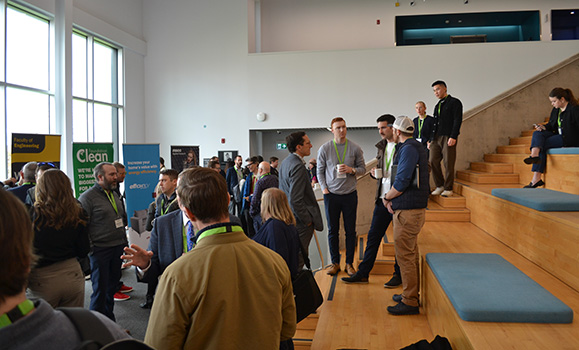 Attendees at the Building to Zero launch.