News
»
Go to news main
Creating solutions to supply shortages
Posted by
Merilyn Layne and Margaret Palmeter
on August 20, 2020 in
News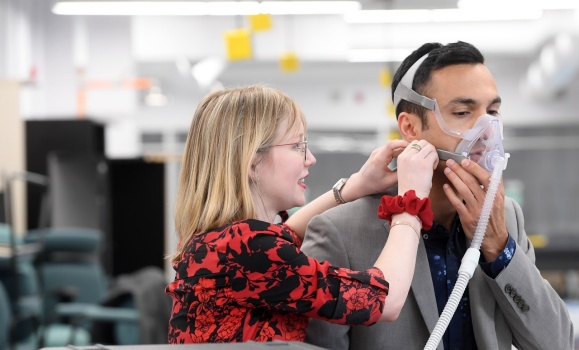 In March 2020, the Premiere of Nova Scotia declared a provincial state of emergency as a result of COVID-19. Around the globe governments and health care providers started scrambling to acquire needed Personal Protective Equipment (PPE) and other important medical supplies.  With distribution chains seeing major, unprecedented disruptions, the sourcing of PPE and medical supplies to Canada were drastically impacted creating a critical need for locally available solutions.
A collaborative response
The Emera ideaHUB (HUB) at Dalhousie University is headquartered in the Faculty of Engineering where it supports students, researchers and innovators developing new products and launching startup companies. Although the facility closed its doors from March-August 2020, the HUB team quickly stepped forward to connect Dalhousie and its network to respond to PPE and equipment needs in Atlantic Canada.
Acting quickly was of utmost importance. Within a week, key organizations including Dalhousie University, Nova Scotia Health (NSH), Atlantic Canada Opportunities Agency (ACOA), NSBI (Nova Scotia Business Inc), the IWK Health Centre, Enginuity Inc, and Ignite Atlantic came together. The Emergency Innovation Team was formed with the objective to identify equipment needs and anticipate potential shortages. A sister team – the Skunkworks innovation team – came together to coordinate and implement local production and solutions. The designation "skunkworks" is widely used in business, engineering, and technical fields to describe a group that can move quickly, unhampered by bureaucracy, to advance the most innovative projects.
Dalhousie's network and researchers in action
As a key member of the Emergency Innovation and Skunkworks teams, Dalhousie University and it's Emera ideaHUB coordinated partnerships across the region to create solutions. Reaching into deep alumni, community, industry, and academic connections to bring the best teams together. The strategic partnerships facilitated between Dalhousie partners and provincial partners were vital in creating a rapid response across a wide area of expertise. Key initiatives included:
Civil & Water Engineers from Dalhousie collaborated with Nova Scotia Health and industry partner Enginuity to modify units typically used in hospitals to instead be dedicated to decontaminating medical masks. The team also collaborated with industry partners Lumin Ultra and Aquisense to pivot a water treatment UV solution so it could be deployed in health care.
Mechanical & Biomedical Engineers from Dalhousie collaborated with Nova Scotia Health and industry partner Bouctouche Bay Industries Ltd (BBI) to create a face shield that was designed to meet infection prevention and control standards and is manufactured in Atlantic Canada to meet demand.
Engineers in Process Engineering & Applied Science (PEAS) quickly set up testing facilities to perform vital material research. In conjunction with the Health and Environments Research Centre (HERC) in the Faculty of Medicine, Dalhousie became the central research facility to explore local materials that could be used in the production of PPE.
Engineers from the Department of Industrial Engineering quickly responded to create processes that could adapt to system changes due to COVID, including scheduling elective surgeries, creating tools based on data to inform policymakers responding to COVID impacts, and new distribution procedures for needed and sanitized PPE within the healthcare system in Atlantic Canada. 

Dal Engineering's Product Design & Development Centre has been instrumental in concept designs for intubation canopies with Nova Scotia Health and the IWK and partner Enginuity. Canopies protect health care workers while providing care for patients on ventilators.
Electrical Engineers quickly put their expertise to use offering valuable insight into modifications and alternatives for assisted breathing devices, including ventilators which are often essential for severe cases of COVID-19.
A team from Pathology was engaged to perform sterilization on essential swab kits used for COVID testing.
The HUB leveraged it's regional networking including Springboard Atlantic and Dal's Industry Liaison & Innovation Office.Collaborating with Acadia University resulted in the verification of hand sanitizer. A collaboration with Memorial University of Newfoundland increased the capability to increase testing of alternative materials for PPE.

Startup companies who are resident in the HUB incubator also quickly pivoted their prototypes as a response to COVID.
 NovaResp Technologies Inc applied their breathing assist technology for COVID patients. 
The Founder of Novalte quickly scaled production timelines so it's product emitto could be deployed to limit contact for those in care facilities.
 Clean Valley CIC leveraged their strategic partnerships, including R&D partnerships with Dalhousie's Faculty of Agriculture, to investigate an alternative mask material, the biomask.
Unique opportunity to make a difference
Dalhousie and its Emera ideaHUB were among the first people at the table of these fast action, result-oriented teams. Dalhousie was able to play a leadership role on both the Emergency Innovation Team and Skunkworks due to the unique position to connect experts to industry partners. From top researchers and engineers to a wide-spread alumni network - it is estimated that between 25 and 40 alumni were engaged from different industries to help provide solutions. Dalhousie's network, role in the community and location led to an impactful team working towards solving the community's needs. There is an ongoing and indispensable role fro Dalhousie to play for our region in ensuring continued availability of PPE and equipment as a result of COVID. We are committed to helping find solutions and playing our part in addressing this public health crisis.