News
»
Go to news main
Engineering researchers utilize expertise in COVID‑19 pandemic
Posted by
Theresa Anne Salah
on May 25, 2020 in
News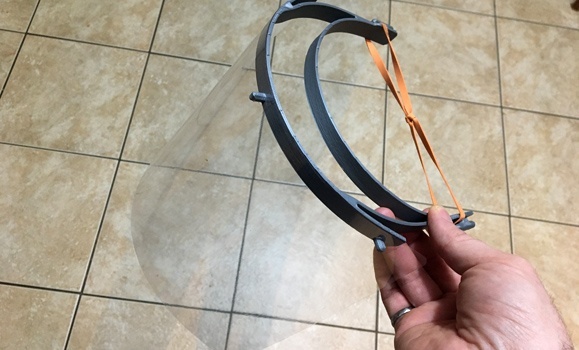 As the COVID-19 crisis continues to strain the global health care system, researchers in the Faculty of Engineering at Dalhousie University are doing what they do best: utilizing their expertise and resources in product development to provide front-line healthcare workers with personal protective equipment (PPE) to combat the deadly virus.
Under the leadership of Dr. Clifton Johnston, an associate professor in the Department of Mechanical Engineering and the NSERC Chair in Design Engineering at Dal, the interdisciplinary team mobilized in late March to rapidly design and prototype a headband for face shields that will be mass-produced by local New Brunswick company Bouctouche Bay Industries Ltd (BBI). Face shields are among the most critical tools required by healthcare workers caring for COVID-19 patients.
Design, Innovation, and Collaboration
The Dalhousie team, comprised of associate professor Dr. Jeremy Brown, senior mechanical engineering instructor Robert Warner, Faculty of Engineering health and safety manager, Craig Arthur, and Emera ideaHUB technical lead, Graham Muirhead, have extensive expertise in product design, specifically in the area of med tech design.
"That's really important because designing a medical product is different than designing a regular consumer good," says Johnston. "There are additional requirements that the team needs to be aware of from the start in order for the product to get rapidly developed to the point where it can be deployed."
Partnering with the Nova Scotia College of Art and Design, the Nova Scotia Health Authority (NSHA), and the Atlantic Canada Opportunities Agency (ACOA), the team began with a thorough assessment of the current needs within the global health care system.
In collaboration with NSHA they were able to design a face shield that met infection prevention and control standards, and were able to trial their 3D printed product with front-line care workers who would be wearing the device.
"3D printing is a useful technology because you can quickly make changes and adjustments to your product and then turn it into a working prototype that can be used by a customer," says Johnston. "We have a group here in the Faculty of Engineering who really know how to prototype as part of a user-centric design process."
In addition to a shortage of face shields around the globe, materials used to manufacture the device, including the clear plastic shield that protect a user's face, are also in low supply.
"When we looked at the process for rapid manufacturing, this global shortage of supply materials started to come up. So, we had to look at what common materials would be comparable," says Johnston. "What we came up with was injection molding the headband and a transparent clear report cover that you can buy at Staples for the shield. That's when Robert Warner's expertise really came to the table because he's a design for manufacture expert, especially when working with plastics."
Tweaking their design, the team was able to accommodate for the instillation of the new materials. "We needed something easy and we needed quick and dirty prototyping. We needed something that can be done on the fly," says Johnston.
Teaching the next generation of innovators
Dal's innovative work is a key example of the creative brilliance within the Faculty of Engineering.
With a strong focus on design productivity, innovation and entrepreneurship, engineering students are provided extensive hands-on learning throughout their academic degrees and beyond. Addressing each stage of product development, programming within the Faculty allows students and faculty to explore and harness their creative abilities.
"We also impart that knowledge and teach that knowledge to our startup companies participating in the Emera ideaHUB," says Johnston who is also the Academic Director of the Emera ideaHUB, the IDEA Sandbox and the MakerSpace. "We're also working to formalize and teach that process as part of our BUILD Program. It's all about building better products faster."
Now set to produce thousands of units to meet the needs of local hospitals and beyond, a local manufacturer has been tapped to produce the face shields for NSHA. Bouctouche Bay Industries (BBI) has sourced material and is now manufacturing the face shields at a rate as high as 30,000 per week.
When needed, the face shields will be in the hands of front-line healthcare works.