News
»
Go to news main
Engineering student developing models to help inform reintroduction of elective surgeries following pandemic
Posted by
Theresa Anne Salah
on July 10, 2020 in
News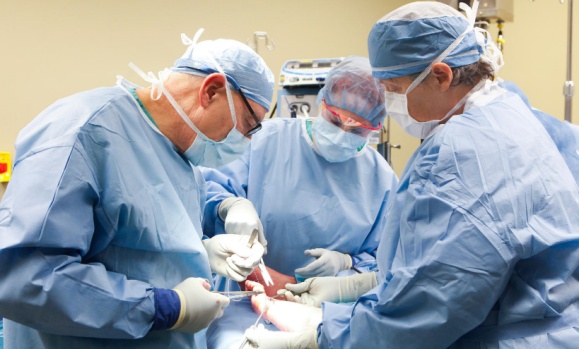 Natalie Ash never imagined her thesis project would involve helping her province through a global pandemic. Yet, as Nova Scotia begins to ease COVID-19 public health restrictions, the Dalhousie Industrial Engineering grad student is working with Nova Scotia Health (NSH) to explore how elective surgeries could be reintroduced in the wake of a pandemic.
In late March, all non-urgent, elective surgeries were postponed throughout Nova Scotia in order to create capacity in case there was a surge in COVID-19 patients. Thousands of elective surgeries did not go ahead.
Examples of elective surgeries include anything from hip or knee replacements to bowel and eye procedures.
"Everyone knows that there's been a backlog created with surgeries because of the pandemic," says Ash. "Dealing with that, especially since most provinces like Nova Scotia were already managing high demands prior to COVID-19, is a cause for concern."
Responding to a pandemic
The idea to explore modelling originated with Dr. Geoff Porter, Professor and Ramia Chair in Surgical Oncology, Dalhousie University and his colleague Dr. Michael Dunbar, orthopedic surgeon, QEII Health Sciences Centre Endowed Chair of Arthroplasty Outcome Scientist with NSH's Orthopedic Program.
In mid-April Ash's supervisor, Dalhousie Industrial Engineering Professor Peter VanBerkel, asked her if she would be willing to step back from her current Master's project to develop a comprehensive model that would detail how elective surgeries could resume on a gradual basis. Industrial Engineering Professor Noreen Kamal was also assigned as co-supervisor on the project.
The Department of Industrial Engineering at Dalhousie has a long-established relationship with NSH's Project Service and Performance Improvement (PSPI) team. NSH works with co-op students from the program, to provide meaningful learning opportunities within the health sector. The department also has a relationship with NSH's Performance and Analytics (PA), with Dr. Kamal serving as an affiliate scientist with the team. Combined, both the PSPI and PA teams have successfully collaborated on past projects and have several active collaborations underway which should serve to provide meaningful, applied outcomes relevant to both the academic investigators and the health system.
In designing an elective surgery framework, the team is analyzing a number of different factors and scenarios including determining high priority surgical procedures, available resources and capacity.
"As hospitals are increasing the number of surgeries they complete, they can't operate at 100 per cent capacity due to ongoing COVID-19 concerns and resources," says VanBerkel. They are increasing gradually and have to choose which surgeries can go ahead. We're helping quantify what that could mean. For example, if you give a certain amount of capacity to one type of surgical procedure, what is that going to do to waitlists for other kinds of procedures?"
"Also, when you do bring patients in you have to schedule them in a way that maintains the efficiencies of the operating rooms and is respectful of available support services like diagnostic imaging and laboratory services," adds VanBerkel. It is also important to schedule patients requiring admission in a way that you can ensure you have enough beds to care for them."
As complex at the task may be, VanBerkel says creating their framework will be even more challenging in the ongoing COVID-19 environment.
"Now it may take even longer to turn over operating rooms between surgeries because you might have more cleaning to do between patients," said VanBerkel. You can't have groups of patients sitting together in waiting rooms, and you have to maintain separation in recovery rooms. All of that makes it more difficult to be really efficient."
Applying academic learning to global problems
Ash says she feels well prepared to tackle the issue and will be exploring creative ways to deal with the backlog of surgeries as well as adapt to any future COVID-related restrictions to elective surgery.

"I graduated from Dalhousie in May of 2019 with a Bachelor of Industrial Engineering. Since then I have taken courses and explored literature surrounding the application of industrial engineering research to healthcare systems," Ash said. "Under the expert guidance of Dr. VanBerkel and Dr. Kamal I can apply these skills to the challenge NSH is facing."

With a timeline set for the end of August, Ash is now busy consulting with doctors and surgeons, including Dr. Dunbar and Dr. Geoff Porter. This will provide the clinical context and help her develop a variety of different models that reflect a future that remains unpredictable.
"By collaborating with our industrial engineering colleagues at Dalhousie, we have the ability to explore various sophisticated models of how we may address the surgical back log created by the COVID pandemic." said Dr. Dunbar. Doing so may provide direction on which are the best models to provide the most timely care."
"If we do have a second wave of the pandemic, our models could be very helpful in understanding how to come out of that wave," said Ash.

Ash says she feels honoured to have been invited to take part on her particular project, especially given the gravity of the COVID-19 crisis, and its global impact.  

"I think it's really interesting how so many people are coming together to find solutions and it's been great to connect with these people to offer possible solutions," said Ash.

"The remainder of my degree will be spent focusing on modelling this complex challenge and providing valuable results to NSH. This project is unique due to the public health crisis that we are currently experiencing, and this rare opportunity will provide me with skills that will create future opportunities."

Note: Across NSH hospitals more than 3200 scheduled surgeries were postponed between March 16 and May 25.  Many other surgeries would normally have taken place during this time as well but had not yet been scheduled when COVID-19 measures were put into place. NSH began to gradually reintroduce surgical services on May 25. To date, more than 48 per cent of the scheduled surgeries that were postponed have been completed or rescheduled. Updates can be found at http://www.nshealth.ca/servicereintroduction