Graduate
Graduate Studies in the Department of Mechanical Engineering at Dalhousie University offers opportunities for graduate students to further their knowledge and understanding of the mechanical and materials engineering disciplines through advanced courses, hands-on projects and novel research development.  Modern, state-of-the-art laboratories in thermofluids, controls/robotics, solid mechanics and materials research provide environments suitable for the transfer of advance knowledge to important engineering problems and applications.  The department consist of 24 full-time faculty members, 60 graduate students and 300 undergraduate students, all working together to solve today's important challenges in the field. 
Our graduate students receive mentorship from accessible, motivated and experience faculty supervisors and explore new ideas through course work and research. Graduate studies in the department are concentrated in the following areas:
Engineering Design
Materials Engineering
Additive Manufacturing
Fluid Mechanics and Heat Transfer
Energy, Energy Storage and Energy Modeling
Solid Mechanics
Micro-machines/MEMS
Manufacturing
Grinding
Control Systems and Robotics
Meet the faculty members who conduct research in these areas.
Learn more about our graduate programs:
Consult the following flow chart to help you select the appropriate graduate program for your need and interest.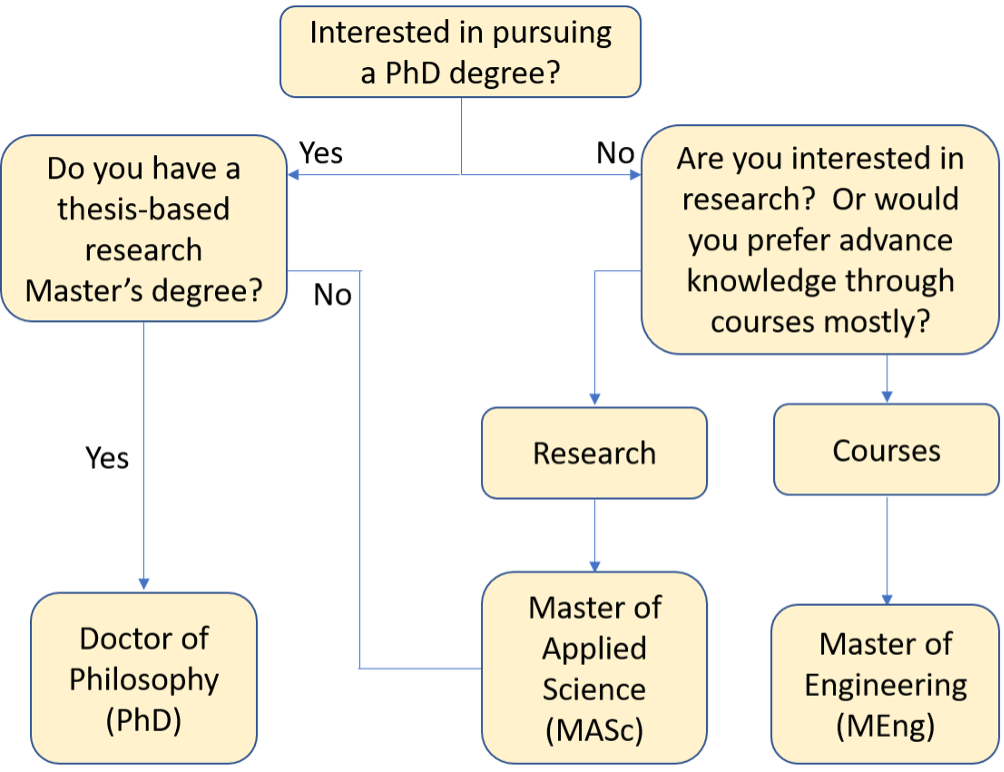 Now that you know which program is right for you, click on the links below to learn more about it:

Doctor of Philosophy (PhD)**

*The MEng degree is a professional terminal degree (does not lead to a PhD). 
**The MASc and PhD degrees are thesis-based research degrees.