»
Go to news main
Turning ideas into reality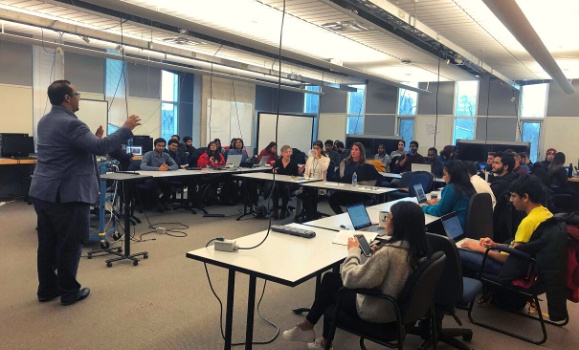 Computer Science student Chintan Patel has learnt a lot over the last few months about the opportunities and challenges that come with turning a business idea into a reality thanks to the Faculty of Computer Science's Technology Innovation course.
"The course taught us many values, as we are from a computer science background and we got to learn how to see a project from a business perspective," says Chintan.
Hands-on skills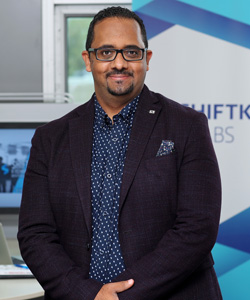 "Most of the students in the course have no business background but they have been able to learn design thinking and understand how to implement a Lean framework," says Al-Otumi (pictured).
"Students go out and test their business model week after week to try out their ideas and build a functioning prototype based on evidence and user's feedback. This is where their Computer Science skills provide them with a strong advantage, they have the technical knowledge that is very much needed as the backbone for a tech start up."
Bringing ideas to life

Throughout the course, students cover a full range of innovation methodologies including agile project management, journey mapping, customer discovery processes, design thinking and prototyping.
Working in teams, students from undergraduate and graduate programs collaborate and apply their learnings from the classroom to create a solution to an assigned problem. Their work culminates with a pitch to a panel of expert judges from the local innovation and entrepreneurship sectors.
Back in December at the pitch session for students taking the fall 2019 course, undergraduate Computer Science student Serena Drouillard's team brought their idea to tackle patient wait times to life.
"My team 'WaitCheck' attempted to solve the long wait times facing Nova Scotian hospitals by introducing a program to help them better analyze their data,' explains Serena. "We did this by analyzing and presenting the data that hospitals already collect from patients on a dashboard to make it easier to interpret and get information from."
The WaitCheck team was made up of students from the Master of Applied Computer Science, Bachelor of Applied Computer Science, and Bachelor of Computer Science programs. Serena hopes to revisit the project with her team later on in the year but in the meantime is reflecting on how she benefitted from taking the Technology Innovation course.
"It has shown me that it isn't as hard as I thought to turn my ideas into a reality, and really encouraged me to pursue some ideas I've had while in school."
Master of Applied Computer Science student Chintan and his team the 'Climate Protectors' tackled e-recycling through their idea for a bidding-style mobile app. Chintan echoes Serena's comments about the benefits of the course.
"The course structure (hackathons, workshops, project) added a lot of learning experience which will come in very helpful in the future. Basically, the course helped us to understand how an 'idea' can be converted to 'money.'"
International outlook

As Al-Otumi welcomes a record of number of students into the Technology Innovation course this term, he is mixing things up and looking to align more closely with Dalhousie's strategic research goals.
"This term the projects given to students will shift from a local to an international perspective," says Al-Otumi. "They will work on projects that have the potential to contribute solutions to support the United Nations Sustainable Development Goals."
The UN's Sustainable Development Goals include no poverty, quality education, affordable and clean energy, and gender equality. Dalhousie's signature research clusters are grounded in these goals.
"Our students have so much potential, and the knowledge and talent to change the world. By linking the course to the United Nations' Sustainable Development Goals, I want them to see firsthand how their technology innovation and entrepreneurial knowledge can be used to change the world, one startup at a time to create a better tomorrow for everyone."

Intake to the course for the winter 2020 term has seen a 43 per cent increase from winter 2019, highlighting the demand from students to develop practical and hands-on skills in technology innovation and entrepreneurship.
The course is led by lecturer Akram Al-Otumi, who is also manager of ShiftKey Labs. Al-Otumi credits the course for providing Computer Science students with the experiences they need to be prepared to launch their own ideas.