FCS News
»
Go to news main
Spotlight on your Computer Science Society President Brandon Poole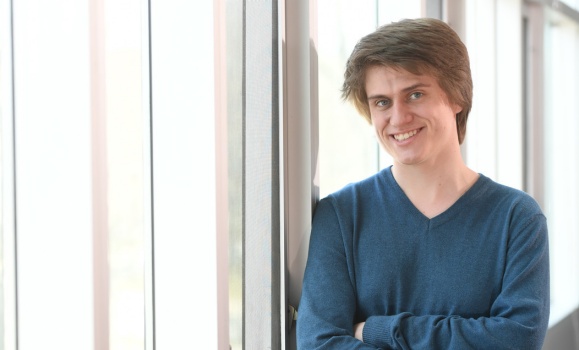 In the lead up to our annual Student Society elections, we're chatting to our current Presidents' to find out more about their role, why they chose Dal and Computer Science, and how other students can get involved. First up, Brandon Poole from the Computer Science Society (CSS).
Tell us a bit more about you
I know you're reading this and thinking this section should be used for me to justify why I'm in the role that I am, but let me tell you that I'm just an average student who just happens to volunteer – and so can you!
If I had to attribute a characteristic of myself as to why I'm in this position, I'd have to say it is drive. I joined the CSS when I was in my first semester of my first year, by the third month I was on the executive, and by my second year I was the President. Just by being on the CSS I could tell this was a place to initiate change and improvement; I wanted to be part of that.
Why Dal?
I'm originally from Nova Scotia, so staying with my roots was the largest factor. I also wanted a school where I felt I would get my money's worth. I did a couple of tours at other universities, but it always felt like computer science was shoved into the basement of some building. When I saw the Goldberg building for the first time, I knew Dal was for me.
Why Computer Science?
There's too many reasons to state why someone should study Computer Science in this short paragraph, so I'll try to do it with a haiku:
Every day is new
Jobs, travel, enlightenment
It will never end.
Like many people here, I just fell into the study. Something drew each and every one of us to Computer Science. I don't need to explain to fellow students why it was the right decision. However, if you're reading this as someone not in our faculty, please feel free to contact one of our Student Ambassadors. Warning: You might be convinced to switch degrees.
What do you like most about studying Computer Science at Dal?
I find that the environment inside the Goldberg is like a well managed thermostat. Some people find it a little too warm, some too cold, but what's important is that there's people trying to satisfy everyone. What I mean by that is there's a variety of students in our faculty, and it's a challenge to ensure everyone's needs are being met. Some students are set on doing a master's degree, some have that 'get in and get out' mentality, but the staff and professors here try their best to provide material that's relevant and necessary for everyone.
The opportunities are here if you want to do anything beyond the classroom setting as well. With the CSS, Women in Technology Society, and ShiftKey Labs putting on numerous educational and social events throughout the year, you most certainly cannot be bored.
What does your society do?
Boring answer: We represent all undergraduate Computer Science students at Dalhousie at a university level.
Fun answer: Game jams, hackathons, Geek Labs, Geek Beer, and Geek Films are among some of our most recognised events. That said, events are not the only thing we do. We try our best to create an environment that is informative and welcoming inside our faculty. We have four major social media accounts that are heavily monitored (Facebook, Instagram, Twitter and also LinkedIn). We manage the Society Desk, purchase amenities for students to use, and attend faculty council meetings to stay informed.
The society is as great as the people that are in it. No one is forced to do anything; whatever an individual is passionate about, they can work on. What happens when a project doesn't have someone working on it? Let's just say the President is multi-purpose.
How can students get involved?
Students can get involved in a variety of ways. Doing something as simple as giving us a neat computer science related story with an image for our social media is much appreciated. Students can also come to us with an idea for a faculty event and we can sponsor it.
If a student is looking for a more long-term commitment, the CSS elections are well underway. This is a time where CS students can be elected for any position on the council. The process is quite simple, and is completely outlined on our website.
Get involved
If you are a current student within the faculty and are interested in becoming the next Computer Science Society President for 2017-18, you can find out more on the CS Elections website or find out more about the Society.