Roberta
Barker
Associate Professor, Theatre Studies; Gender and Women's Studies - Cross Appointment; Canadian Studies - Cross Appointment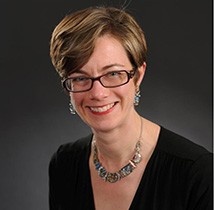 Email:
barkerr@dal.ca
Phone:
(902) 494-1495
Fax:
(902) 494-1499
Mailing Address:
Room 524, Dal Arts Centre
6101 University Ave.,
PO Box 15000, Halifax, Nova Scotia
B3H 4R2

Research Topics: Theatre History, Performance Studies, Early Modern and Modern Drama, Opera in Performance, Canadian Theatre and Performance, Realism, Medical Humanities, Gender in Performance
Research and Creative Activity:
Roberta's research interests centre on the relationship between theatrical performance and the social construction of identity. Her work has explored such topics as the representation of gender and class in early modern tragedy, the lives and repertoires of early modern boy actresses, and the performance of illness on the nineteenth-century stage. She is the author of Early Modern Tragedy, Gender and Performance, 1984-2000: The Destined Livery (Palgrave Macmillan, 2007), editor of Common Conditions (Oxford University Press, 2004), and co-editor with Kim Solga of New Canadian Realisms: Eight Plays and New Canadian Realisms: Essays (Playwrights Canada Press, 2012). She is also General Editor of the series New Essays in Canadian Theatre at Playwrights Canada Press. Her current book project, Symptoms of the Self: Tuberculosis and the Making of the Modern Stage, is under contract with the University of Iowa Press. Her credits as a stage director include Aunt Helen, Luisa Miller, The Rake's Progress, and Orfeo ed Euridice for Opera Nova Scotia; Henry IV, Part One for the Windsor Theatre, Mount Allison University; and Drums and Organs, She Herself is a Haunted House, The Mill on the Floss, The Witch of Edmonton, Fuente Ovejuna, and Troilus and Cressida for Dal Theatre.
Teaching:     

Play Analysis for Directing (THEA 2902)
Canadian Theatre Since 1968 (CANA / ENGL / THEA 4501)Selected Publications:
Selected Publications:
"Alexandre Dumas et la construction du héros théâtral 'allemand'." Le Théâtre de Dumas Père, Entre Héritage et Renouvellement. Ed. Anne-Marie Callet-Bianco et Sylvain Ledda. Presses Universitaires de Rennes, 2018. 159-170.
"'Dear'd by Being Lacked': The Realist Legacy and the Art of Failure in Contemporary Shakespearean Performance." The Oxford Handbook of Shakespeare and Performance. Ed. James C. Bulman. Oxford UP, 2017. 46-63.
"Consumption and the Stage: A Late-Blooming Fashion." Journal of Eighteenth-Century Studies 40.4 (Fall 2017): 621-35.
Tyrants, Love, and Ladies' Eyes: The Politics of Female / Boy Alliance on the Jacobean Stage." The Politics of Female Alliance in Early Modern England. Ed. Christina Luckyj and Niamh O'Leary. U of Nebraska Press, 2017. 126-145.
The 'Play-Boy,' The Female Performer, and the Art of Portraying a Lady." Shakespeare Bulletin 33.1 (Spring 2015): 83-97.
The Gallant Invalid: The Stage Consumptive and the Making of a Canadian Myth." Theatre Research in Canada 35.1 (Spring 2014): 69-88.
"Affective Capital and Social Struggle in Dumas Père's Angèle." Nineteenth-Century French Studies41.3/4 (Spring and Summer 2013): 204-19.
Roberta Barker and Kim Solga, eds. New Canadian Realisms: Eight Plays and New Canadian Realisms: Essays. Toronto: Playwrights Canada Press, 2012.
"'A Freshly Creepy Reality': Realist Acting and Jacobean Tragedy on the Contemporary Stage." Performing Early Modern Drama Today. Ed. Pascale Aebischer and Kathryn Prince. Cambridge: Cambridge UP, 2012. 121-41.
"Inner Monologues: Realist Acting and/as Shakespearean Performance Text." Shakespeare Survey 62 (2009): 249-260.
Early Modern Tragedy, Gender and Performance, 1984-2000: The Destined Livery. Houndmills: Palgrave Macmillan, 2007.
Selected Awards and Honours:
Elected member, inaugural cohort, College of New Scholars, Artists, and Scientists, Royal Society of Canada, 2014

Alumni Award for Excellence in Teaching, Dalhousie University, 2014

Social Sciences and Humanities Research Council of Canada, Insight Development Grant, 2013-15: "Symptoms of the Self: The Consumptive Hero on the Nineteenth-Century Stage"
Patrick O'Neill Award for Best Edited Anthology, Canadian Association for Theatre Research, 2013 (for New Canadian Realisms: Eight Plays, edited with Kim Solga)
Award for Excellence in Teaching, Faculty of Arts and Social Sciences, Dalhousie University, 2011
Social Sciences and Humanities Research Council of Canada, Aid to Workshops Grant, 2010-11: "New Canadian Realisms"
Social Sciences and Humanities Research Council of Canada, Standard Research Grant, 2005-8: "Realizing the Classics"