Jacob
Caines
Director of Dalhousie Wind Ensemble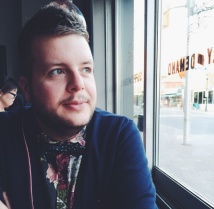 Email:
jacob.caines@dal.ca
Phone:
902.494.3772
Mailing Address:
Room 514, Dalhousie Arts Centre 6101 University Avenue PO Box 15000, Halifax, NS B3H 4R2

Research Topics:
New Music and Composition for Winds
Education
Bachelor of Music - Acadia University
Master of Arts: Musicology - University of Ottawa
Research & creative activity
Frederick Fennell and the Eastman Wind Ensemble: The transformation of American wind music through instrumentation and repertoire (2012)
New music and composition for winds. 
Breaking down barriers between audience, performers, and conductor
Multidisciplinary, theatre/stage performances and immersive performances. 
Jacob Caines is a conductor, musicologist, and teacher in the Halifax area. Having studied music education and conducting at Acadia University, he went on to complete a Master of Arts in Musicology at the University of Ottawa. Jacob's thesis was focussed on the Eastman School of Music and their first wind ensemble conductor, Frederick Fennell. This research allowed him to spend time at the Eastman School in Rochester sifting through the personal documents and scores of the late conductor. During his graduate work, Jacob was an active conductor in the Ottawa area, focussing on local professional and semi-professional theatre groups. Performances included Gilbert and Sullivan's The Mikado, Lully's ballet Le Bourgeois Gentilhomme, Rogers and Hammerstein's The Sound of Music, and several other graduate theatre productions. 
After graduating from the University of Ottawa, he accepted the position of Director of Music and Choir Director with the First Unitarian Congregation of Ottawa and the Canadian Unitarian Council as their Music Director at the annual national conference. It was at this time that Jacob co-founded and became Artistic Director for Sesquisharp Productions. Although Sesquisharp began as a production company that focussed on performing new music in new spaces, it quickly evolved into an artist advocacy and opportunity organization for artists of all types leaving their undergraduate and masters programs. While in Ottawa, Sesquisharp worked with well over 200 local musicians and artists to create innovative and groundbreaking shows that highlighted the talent and creativity of the area. 
Having recently moved back to Nova Scotia, Jacob has been working as a saxophone faculty member at the Maritime Conservatory of Performing Arts in addition to getting involved as a board member with several Halifax based arts advocacy and granting organizations. As a performer and clarinetist, Jacob has performed with the Atlantic Wind Orchestra and the National Concert Band. Jacob has also been on the clarinet/woodwinds faculty of the Acadia Summer Academies and the University of New Brunswick Summer Music Camps. He has also been a lecturer and presenter with Leslie University, CAMMAC, and various High Schools and honour bands and choirs across Ontario, Nova Scotia, and new Brunswick. Jacob is an advocate for lifelong music education, community through art, and cultivating a love of all art forms and music genres in performers and audiences.