News
»
Go to news main
Industrial Postdoctoral Fellow
Posted by
stephanie Rogers
on March 15, 2023 in
News
Asante Logistic Group Inc., (ALG) in partnership with Dalhousie University's Dr. R. Lada, Principal Scientist, Emeritus Professor, Department of Plant, Food, and Environmental Sciences and Mitacs received a three-year funding for an Industrial Postdoctoral Fellow.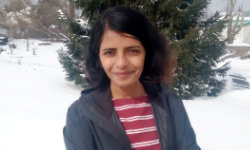 Dr. Malathi Nanjegowda joined Dr. Lada's research team to conduct the industry-related research to enhance post-harvest shelf life of leafy greens, develop innovative technologies for enhancing phytonutrients, and to design and develop innovative plant-based health products.
Dr. Nanjegowda earned her PhD from Punjab Agricultural University, India. Her expertise is in processing and food engineering – product design and development, food processing, controlled atmospheric storage, Innovative packaging, plastic engineering, and environment management.
She has developed nano-functionalized biodegradable packaging materials, automatic healing, and hardening chamber, and over 28 innovative maple products and technologies. She has received Dr. M.S. Randhaw Gold Medal from Punjab Agricultural University. She has published several peer-reviewed original articles, review articles and a book-chapter.
"We welcome Dr. Nanjegowda to our Research Team. This is another milestone in ALG as we celebrate our one-year anniversary," said Dr. Raj Lada.