News
»
Go to news main
Legacy Awards Celebrated
Posted by
stephanie Rogers
on November 16, 2022 in
News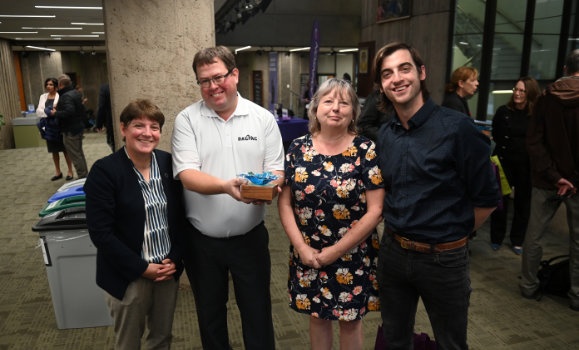 The 2022 Legacy Awards event was held on November 7, in the Rebecca Cohn Auditorium, Dalhousie Arts Centre. Thank you to all those who attended in-person and virtually. For those unable to attend, you can view the livestream event.
Congratulations to all of this year's award recipients!
DPMG Award
COVID-19 Pandemic Award 
Jean Lynds , the operations manager of farms on Dal's Agricultural Campus in Truro, receives this award for being a composed leader and keeping staff safety and animal welfare a top priority during the pandemic. Jean has displayed exemplary leadership and resilience and made the Faculty of Agriculture a much stronger team throughout the pandemic.


Environmental Health and Safety Award
Jason Penney Jason has been with Dalhousie since 2014 and has been the Operations Manager at the Agricultural Campus since 2018. He has been the co-chair of the Agricultural Campus Environmental Health and Safety Committee since its creation and actively involved in many safety initiatives, including staff training, building construction and renovation projects, building maintenance and infrastructure, and fire safety. Jason's work during the COVID-19 pandemic was, and continues to be, outstanding considering the administrative and logistical challenges.

Staff Award for Excellence in Service, Faculty, Agriculture
Natalie Cole has made many contributions to the Faculty of Agriculture through her work as Finance Manager in the International Office. Her institutional memory and financial management skills are often called upon for furthering new and current projects and to train staff members. Natalie has been a crucial leader to the successful progression and completion of projects and the furtherance of the Faculty and university strategic goals and priorities.

Academic Innovation Award
Biodiversity Working Group This award goes to the Biodiversity Working Group, made up of six passionate educators from the Dalhousie Faculties of Science, & Agriculture. Their goal is to use a biological survey completed every year to connect students with the Studley and Truro campuses, the broader natural history community, and help them discover the other organisms we share the spaces with. The team members are Lara Gibson, Dr. Susan Gass, Dr. Amy Mui, Dr. Heather Cray, Dr. Paul Manning and Dr. Gabrielle Tompkins.