News
»
Go to news main
The Beauty of Agriculture
Posted by
stephanie rogers
on May 12, 2021 in
News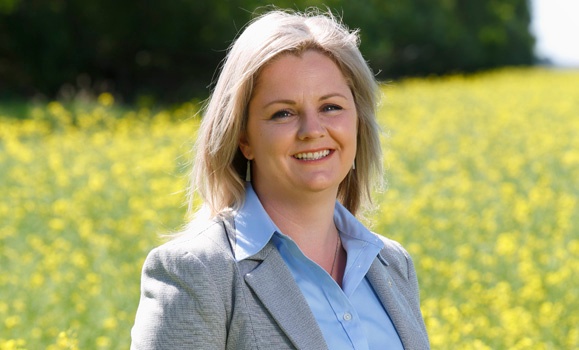 There are similarities no matter where you go
Pam Bailey (Class of '06)
The beauty of agriculture and farming is that it crosses borders, crosses languages and crosses cultures says 2006 alum Pam Bailey who has been living and farming in Manitoba for the past six years.
"There are a lot of similarities no matter where you go," said Pam. "One of my favourite differences is the soil. I grew up picking rocks in Heatherton, Nova Scotia, which is a foreign idea in southern Manitoba, so that's certainly a perk."
Familiar with Manitoba through her time in 4-H, Pam made the move out West a few years after graduating with her degree in horticulture.  She now farms alongside her husband growing 1000 acres of crops including canola, wheat, malt barley and soybeans. They are looking to diversify further with unique specialty crops in the future.
From a young age, Pam knew she wanted to be involved in agriculture. Her family's childhood farm stopped operating around the same time she started in 4-H which shaped the direction she saw her life going in.
"I knew I'd have to do something very different than beef, dairy or hay if I still wanted to be in agriculture, but wasn't sure what that was," Pam said about choosing her path. "I did know I liked growing flowers, so I thought I'd go the horticulture route."
As a young woman in agriculture, Pam is not only passionate about farming but volunteering as well.
"Volunteering is important to me for a number of reasons. Back home in Heatherton, we all do a lot of volunteering, it's just a way of life," she explained.  "Even with most of my visits home, I often still end up volunteering for something.  It's a great way to learn skills, meet your community, and help other people or groups."
Pam was the first female on two different board including an organization that existed for 145 years without a female member and started two non-profit organizations – the Heatherton Wellness Cultural and Development Association and Ag Women Manitoba.
Currently, Pam is part of the Manitoba Canola Growers Association.  She has scaled back on volunteering earlier this year to focus on moving to their new farmyard.
"With this pandemic being top of mind, it's caused us to really take a holistic look at our farm and what's important for us moving forward."
If there's one thing Pam wants the farming industry to know, it's that there are young people who want to be farming.
"We are not only passionate, we are more skilled and more educated than ever before," she explained. "Young farmers are doing everything they can to make their dreams work, while providing food and fibre to the world."
Pam believes young farmers need the support of society to thrive.
"We can't do it alone, we need society's support," she said. "We need to be involved in policy making at every level of government and industry-led initiatives. We need regulations that work with us, not against us. We also need resources in our rural communities to support our rural economy, not just for young farmers, but for young families."
And while Pam has been crossing borders since she left the AC one thing is for certain. The beauty of agriculture is everywhere.
"Even though I've been a resident of Manitoba for eight years, like many others who leave the Maritimes, there is always one true home and Heatherton, Nova Scotia is mine."