News
»
Go to news main
Landscape Architecture ‑ Climbing trees!
Posted by
stephanie rogers
on December 1, 2020 in
News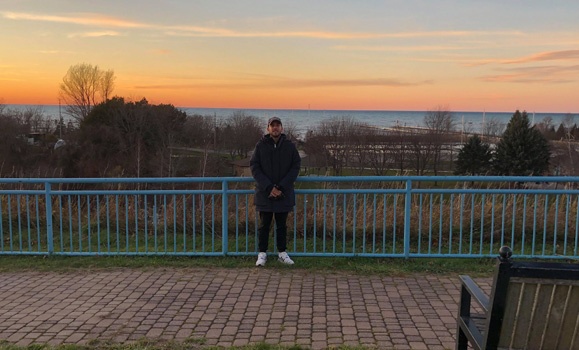 Meet Joseph Parente, graduate of Dalhousie's Bachelor of Technology in Landscape Architecture program. We asked Joseph about some of his key takeaways from his degree and any advice he can share with future students.
Why did you choose to enrol in the BTLA program at Dalhousie?
I was interested in learning more about the east coast of Canada. Being from the Greater Toronto Area, city life was all I was familiar with. Studying abroad was an opportunity for me to get to know the country better. I also wanted to be at an agricultural campus because what fascinates me the most about landscape architecture is garden design theory, horticulture, and ecology. Being surrounded by other programs that are within that realm enriched me with an experience to learn about similar topics through friends I met on campus.
What was your favourite course and why?
Hard question to answer! I enjoyed them all. If I had to pick, it would be between the Arboriculture class (climbing trees was a blast!) or the studio classes. I am a very hands-on person, which is why I did best at those classes. Although, later I realized how important it is for a landscape architect to be equipped with not only hands-on skills, but to also be very knowledgeable in reading, writing, and communication skills. The History of Landscape Architecture class was where I was able to pick up on writing skills in an enjoyable setting.
Do you have any advice for students considering the BTLA program?
•If landscape architecture is the career you desire, pick something within the industry that you can specialize in. Landscape architecture is a very broad topic. It is hard to cover everything.
•Landscape architecture is a career pathway that you must always be learning.
•Join extracurricular activities, volunteer programs, memberships related to your interests.
•Interact with your colleagues and professors often. Network, build relationships and always do your best. Give every project 100%.
•All your efforts in class are habits you can take with you into the work field.
What is the most valuable outcome of graduating with a BTLA degree?
Without this degree, I would not have been accepted into the Master of Landscape Architecture program at the University of Guelph. There are many pathways that one can take with this degree.
What are your future plans?
Since I was young, I have always had a passion for growing plants. I would like to operate my own garden centre/tree nursery one day.
Dalhousie's Faculty of Agriculture offers the only bachelor's degree in technology in landscape architecture in Atlantic Canada. With development in the province on the rise, the need for Landscape Designers is increasing.
Learn more about this program