News
»
Go to news main
Finding the balance
Posted by
Stephanie Rogers
on May 16, 2019 in
News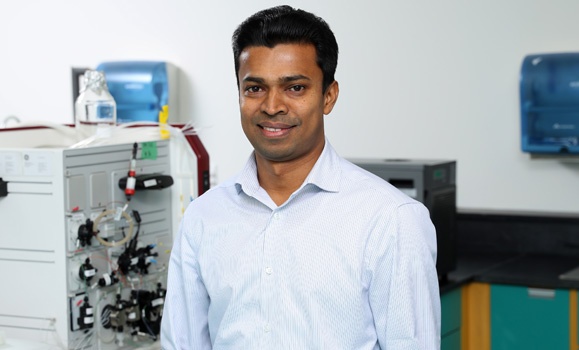 Dr. Nandika Bandara attributes his academic success to finding the perfect balance. With numerous degrees and research work with various universities, he admits that he wasn't always as interested in academia as one might think.  
"When I was in my undergrad, I played for couple of sports on university teams and involved with several extra curricular activities including student unions, debating, announcing," Nandika explains. "My focus wasn't always on the academics."
Originally from Sri Lanka, Nandika studied at the Faculty of Agriculture, University of Peradeniya where he earned a Bachelor of Science degree in Agriculture, specializing in food science and technology. Following the completion of his undergrad, he worked in the industry for a number of years before moving to Canada to pursue graduate studies in the Department of Agricultural, Food and Nutritional Science at the University of Alberta.
"My wife wanted to move to Canada to pursue her Master's degree," Nandika laughs. "That's really how I ended up in Canada. I decided to also pursue a Master's degree"
After completing his Master's degree, Nandika again continued with his academics to pursue a PhD in food science and bio-resource technology at the University of Alberta. Following that, he conducted his postdoctoral research at University of Alberta until early 2018. It was then that he made the move east to the Department of Food Science at the University of Guelph after receiving a Natural Sciences and Engineering Research Council of Canada (NSERC) postdoctoral research scholarship. In September 2018, Nandika joined the Department of Plant, Food and Environmental Sciences as an Assistant Professor in food bioscience.
"When I came to Canada, I didn't have so many extra-curricular activities to be involved with, also as I left my job back in Sri Lanka, I have to find a new career path" Nandika explains. "So I had no choice but to study!"
From a young age, Nandika knew he wanted to be involved in agriculture. When he was a student in high school, Nandika had a relative who stayed with his family and attended the Faculty of Agriculture in Sri Lanka. After attending an agriculture exhibition with his cousin, Nandika realized his passion for agriculture.
"In high schools in Sri Lanka, you must choose your specialty subject which you are planning to do higher studies," Nandika explains. "To go to university, you must pass a competitive exam and you must have the highest grade. I selected agriculture to study in high school, then wrote the exam to attend the Faculty of Agriculture. I was accepted on my first try."
Nandika began his agricultural studies with food science, then moving to chemistry and then finally studies the materials science and nanotechnology. Today, Nandika is a food and material scientist with a wide range of research experience. His research is focused around food and macromolecular chemistry, a type of chemistry that looks at large food molecules like proteins, carbohydrates and lipids. He also studies nanotechnology, or the manipulation of matter at an nanoscale and supramolecular scale. Finally, he specializes in studying biomimetics and renewable polymer applications or the study of natural and living systems to mimic their functions for the purpose of solving complex human problems.
"I currently have few key areas of research," Nandika explains. "The first is the integration of nanotechnology and material science for improving therapeutic efficacy and bioavailability of bioactive/drug molecules. I am also interested in the value addition to agriculture and food industry by-products and waste materials; especially to use them as biobased polymers and advanced functional materials. Understanding the effect of novel food processing methods on structural and functional properties of food macromolecules using advanced analytical methods."
With such a variety of research projects on the go, Nandika is always seeking funding and collaboration opportunities and opportunities to offer to students.
He recently received a prestigious grant valued at $250,000. The New Frontiers in Research Fund – Exploration from Tri-Council Institutional Program Secretariat (TIPS) is a highly competitive award with less than nine per cent success rate. To date, Nandika is the only successful applicant from Dal AC. He was also recently awarded the Vice-President Research and Innovation International Seed Fund (valued at $5,000). This is an internal Dalhousie competition and that he received for a collaborative project with University of Melbourne. Funding grants will allow Nandika to accept students studying a Master's degree to work alongside him. It also allows him to further his research and collaborate with other universities.
"I have already accepted three MSc students currently and my target for September 2019 is to have another PhD student and a Postdoctoral fellow," Nandika explains. "I also have collaborations within Canada and with universities in United States, India and Australia. I'd like to send my students to these collaborative research groups to get their training in interdisciplinary areas. I had that opportunity myself and it was an incredible learning opportunity for me. I want my students to have the same opportunities to help them learn and grow."
Along with his extensive research in food chemistry and material science areas, Nandika is responsible for teaching both graduate and undergraduate students in food bioscience. He teaches programs around food chemistry, food quality and safety and the impact of food on health.
"My favourite part about working at Dal AC is interacting with the students," Nandika explains. "I take pride in helping the students' progress their research and help them discover their paths. For them to succeed, they have to find that balance."