News
»
Go to news main
A family tradition
Posted by
Stephanie Rogers
on May 10, 2019 in
News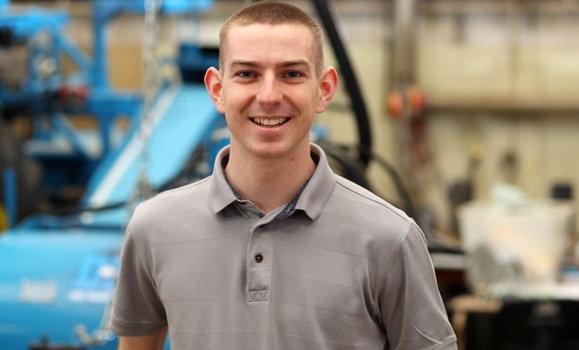 For Jack Lynds (Class of '19) of North River, N.S., choosing Dalhousie University Faculty of Agriculture as his alma mater was a no-brainer. The close family ties to Dal AC and close proximity to his family home were just a few of the reasons Jack pursued a diploma in mechanical engineering at the Agricultural Campus.
"My mom graduated from NSAC in 1990, and now works as coordinator of the Ruminant Animal Centre on campus," Jack says. "It's cool to be following in her footsteps. My little sister is also starting here next year so it is starting to become a family tradition!"
On May 10, Jack will cross the convocation stage at Dal AC and receive a diploma in mechanical engineering. Not only will Jack gratefully accept the diploma he worked so hard for, he will take the stage and address his peers representing the Class of '19 as valedictorian. Twenty-nine years ago, Jack's mother Jean Lynds, addressed the Class of '90 as valedictorian.
"I am proud to be selected by my classmates to represent them as valedictorian," Jack says. "From getting to know them over the past two years through school, sport, my job at the Langille Athletic Centre and other campus activities, I know that we have a graduating class full of remarkable people. I just hope that I can do the job justice."
"I remember reading my mom's valedictory address and thinking how honoring it would be to be selected by your peers for that role," he adds. "Now that I've experienced it, I can report that it is humbling and I am looking forward to the opportunity. I believe it will be a nice way to end such an incredible time here at the AC."
Jack admits that he was drawn to Dal AC for more than just his family ties to the campus. After exploring a few other options during a high school university fair, Jack realized that the reputable university he was looking to study engineering at was right in his own backyard.
"Dal AC appealed to me in many ways," Jack says. "Often the first thing people note when asked about their time at Dal AC is the small class sizes and more one on one time with professors. Another contributing factor was the opportunities this campus offers for hands on learning. Aside from that, it allowed me the opportunity to stay home for another two years while playing soccer for the Rams."
Set to graduate with a diploma in mechanical engineering, it was in high school that Jack realized his passion for science-based courses. With the help of his high school teaches, he became more interested in natural sciences and developed a strong understanding of those subjects. A natural problem solver, Jack decided engineering was the path for him.
"I have always enjoyed solving problems, so engineering seemed like a good fit," Jack explains. "It can be challenging and frustrating at times, but the best part is the rewarding feeling when you complete a project that solves a problem or helps somebody in some way."
Upon graduation this spring, Jack is eager to begin the next chapter of his academic career at Dalhousie University in Halifax. After completion of the two-year diploma program at Dal AC, engineering students have the option to complete an additional three years of studies at Dalhousie University in Halifax to earn a Bachelor of Engineering degree. Their studies also include the opportunity to gain valuable work experience through three co-op work terms. Jack's plans are to do just that.
"The transition from Dal AC to the Sexton campus in Halifax should be smooth and I am really looking forward to the opportunities I will have through the co-op program and extracurricular clubs," Jack says.
Jack's future plans go beyond his education. As a fan of stock car racing, Jack hopes to tailor his academics that will lead him to a career in the sport.
"My dream job would to become an engineer for a NASCAR team," he says. "I am really interested in the application of physics to the performance and safety of the sport. I am planning to tailor my courses and work terms to that career and see where it takes me."
Not only did Jack excel in his academics, he was involved in extracurricular activities at Dal AC. He was a member of the Rams soccer team and also represented Dal AC at both the Atlantic Engineering Competition (AEC) and the Canadian Engineering Competition (CEC). At the CEC, Jack and his three teammates travelled to Ontario to compete in an engineering design competition. The team secured the national championship title for the third year in a row.
"Being involved on campus really enriches the student experience," Jack explains. "Ten years from now, we may not remember the classes and long nights of studying but we will never forget the friends we made and the memories we made together."
As Jack winds down the semester, wraps up exams, and prepares his valedictorian address, he reflects on his time at Dal AC. It's evident he is proud to hang onto those family ties to Dal AC. Despite his sadness to move on from the beautiful campus he calls home, he's excited to see where the next chapter will take him.
"I have no regrets about my decision to study engineering at Dal AC," Jack smiles proudly. "There are so many fields to enter upon graduating with an engineering degree and I'm excited to see where it takes me!"
Congratulations Jack!  Check out this video on Jack