News
»
Go to news main
New Face on Campus
Posted by
Stephanie Rogers
on September 14, 2018 in
News
Dr. Nandika Bandara is a food & material scientist with an interdisciplinary research experience in food & macromolecular chemistry, nanotechnology, biomimetics and biobased/renewable polymer applications.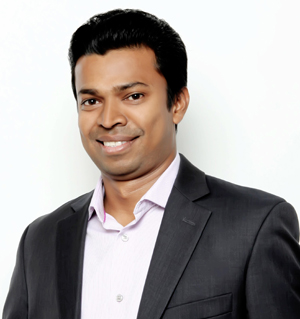 Dr. Bandara is originally from Sri Lanka where he obtained his Bachelor of Science degree in Agriculture specializing in Food Science and Technology (in 2002) from Faculty of Agriculture, University of Peradeniya.
Following graduation, he worked in the industry for few years before moving to Canada for graduate studies in Department of Agricultural, Food and Nutritional Science at University of Alberta. He completed his MSc in Food Science and Technology in 2011 and Ph.D. in Food Science & Bio-resource Technology in 2017.
Following graduation Dr. Bandara continued his postdoctoral research fellowship in University of Alberta (from 04/2017 to 04/2018) and then moved to Department of Food Science at University of Guelph after receiving Natural Science and Engineering Research Council of Canada (NSERC) Postdoctoral research scholarship.
In September 2018, Dr. Bandara joined the Department of Plant, Food & Environmental Science as an Assistant Professor in Food Bioscience.   
Dr. Bandara's research at Dalhousie University is focused on
1. application of nanotechnology and material science for improving therapeutic efficacy and bioavailability of bioactive/drug molecules,
2. understanding the effect of novel food processing methods on structural and functional properties of food macromolecules using advanced analytical methods;
3. value addition to agriculture and food industry by-products and waste materials;
4. biobased/renewable polymers and advanced functional materials (Adhesives, bioplastics, biomaterials) and 5. Application of biomimetics in food and polymer science.
Dr. Bandara is responsible for teaching both graduate and undergraduate level courses in Food Bioscience program in the areas of food chemistry, food quality & safety, and impact of food on health.