News
»
Go to news main
Engineering Department Welcomes Newest Faculty Member
Posted by
Stephanie Rogers
on September 14, 2018 in
News
The Department of Engineering is pleased to welcome Dr. Travis Esau to the department as their newest faculty member. Dr. Esau started as Assistant Professor, Mechanized System on July 1, 2018.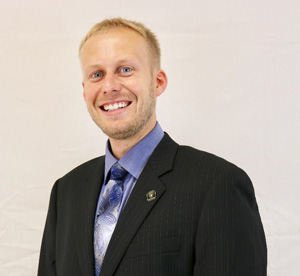 Dr. Esau is a mechanical engineer and has worked on a variety of exciting projects over his academic career. Dr. Esau is no stranger to the campus as he received his BEng from Dalhousie University (Mechanical Engineering) in 2010, a MSc from Dalhousie University (Precision Agriculture) in 2012 and a PhD from Dalhousie University (Mechanical Engineering) in 2016.
Dr. Esau is working to build his research program in agricultural machine systems and automation engineering. His work deals with data management, automation of agricultural operations and data-driven decision analysis for complex agricultural and biological systems.
Currently, he is looking to develop innovative new sensors and control devices to link with online cloud services to analyze, record and interpret data with the goal to make better management decisions on the farm.
One of his research goals is to find new ways to help family and commercial farms in Canada remain sustainable and work towards training the young generation who will feed the future.
Dr. Esau will be responsible for teaching Engineering Design II as well as Machinery and Building Technologies courses this year. He is anxious to work with local industries to identify possible design projects for his students to tackle. Design projects help students develop their problem-solving skills and apply the knowledge they are gaining from their courses. It is rewarding to students to see how their projects have the potential to make a difference in the community.
Please join us in welcoming Dr. Travis Esau to his new role as a Faculty member in the Engineering Department.