Equestrian
March 4   Rohan Stables (hosted by Acadia University)
DAL AC Team finished  3rd
Basketball
DAL AC Men's Team participated in the ACAA Basketball Championships (hosted by DAL AC) as the host team.  In the quarter final , the Rams met Crandall University and lost 96-84   The Rams played a great game and were led by JC Broussard (41 pts, 5 rebs and 6 assists); Robin Grouse (22 pts, 24 rebs, 5 blocked shots), Sanny Clayton and Zane Gares (9 points each) and Jonathan Asedri (3 pts)
The ACAA Champions were MTA women and Holland College men.   Student staff and host committee did an excellent job in game administration , webcasting and all hosting components.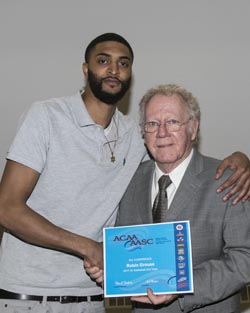 At the annual ACAA All-Conference Awards Banquet held Friday night at Jenkins Hall, Robin Grouse was announced as a member of the  ACAA  All-Conference  2nd Team . Congratulations Robin.
Robin received his All-Conference Award from Ron O'Flaherty, Executive Director of the ACAA.
Woodsmen
At the Truro Sport Heritage Society annual awards dinner recently, the DAL AC  2016-17 Woodsmen Men's A team was selected as the Outstanding Team 21 +  .  The Men's  A Team finished the 2016-17 year as CILA Champions in March 2017.
Congratulations Rams!