News
»
Go to news main
Work Hard, Pitch Harder
Posted by
Stephanie Rogers
on November 29, 2017 in
News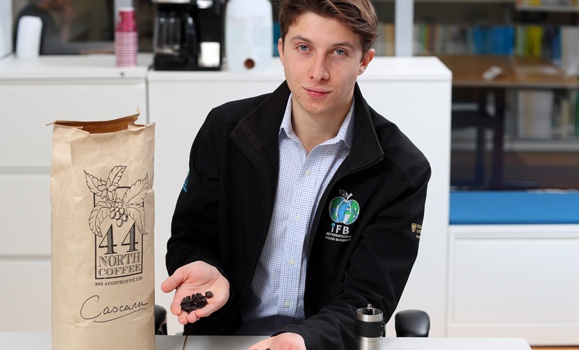 By Rebekah Bailey

If you had an opportunity to win $2500 dollars in five minutes, would you compete? Thirty-seven students on Dalhousie's Agricultural Campus did just that last week.
The Faculty of Agriculture's entrepreneurship sandbox, Cultiv8, hosted its annual Pitch Ag competition Tuesday, November 21. Competing student teams presented industry problems and pitched solutions to a panel of judges.  
Eleven teams competed for three top prizes of $2500, $1500 and $1000, but the competition was not only about the prize money. Students developed transferable skills through Cultiv8 programming and through the event.
"The agricultural industry is faced with many problems across all fields," said Cultiv8 Manager, Jason Grant. "Using the models available through Cultiv8, students develop skills in assessment, ideation and solution, equipping them to make their own opportunities within the agricultural business landscape."
Transferable Skills
Students worked on their ideas throughout the semester by using a framework called the SPRINT methodology. SPRINT was developed by Google Ventures and is used to work through problems quickly to find solutions and determine their potential for success in a customer-driven market.
The framework was developed with businesses in mind, but it can be used to develop ideas in any field efficiently. At the end of the SPRINT, teams should have a better understanding of the problem, a real-world solution and customer feedback.
"Throughout the semester we were able to test different theories in order to work through a problem," said Lauren Pattison, a fourth year International Food Business student and Cultiv8 ambassador. "Cultiv8 is a great opportunity for students to learn about entrepreneurship and what it takes to solve industry challenges."
The SPRINT methodology can be applied to any problem to quickly find a solution, or to improve an existing idea. For the many business students who were involved throughout the semester, the SPRINT methodology can be used in their future careers.
Cultiv8 programming is intended to build students' skills in entrepreneurship, but many of these skills are more broadly applicable in life. Students can apply problem solving, presentation and group work skills in class and beyond.
Work Hard, Pitch Harder
After a semester of working on their ideas, students had just three minutes to pitch their solutions to a panel of judges. The judges then had two minutes to ask questions for clarification. The students received feedback from judges about their pitching and presentation skills, adding to the overall learning experience.  
The participants learned about how to concisely present an idea and had the opportunity to see the pitches of others. The PitchAg event allowed students to not only learn from themselves, but to learn from their peers.
The teams pitched their ideas with passion and heart and pulled out all the stops to give incredible presentations. The competition was fierce at the PitchAg event, but the support was even fiercer between teams.
"I am very proud of my fellow students and what they were able to accomplish in such a short amount of time," said Lauren Pattison.
Students, staff and judges alike were impressed with the calibre of presentations put forth. "I was whole heartedly impressed with student ingenuity, heart and professionalism," said Jason Grant.
Although only three teams are taking away a cash prize, all 11 teams who participated are taking away priceless skills and confidence which they can carry through all aspects of their lives.
Guest judges included:
Maxine MacLean from the Nova Scotia Federation of Agriculture.
Laurie Sandeson, Industry Development Coordinator from the Nova Scotia Department of Agriculture and
Heather Rand from Agriculture & Agri-Food Canada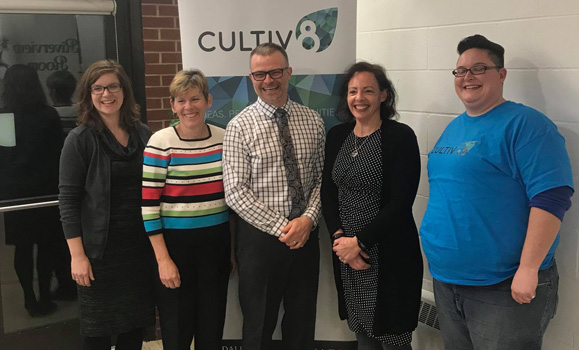 Maxine MacLean, Laurie Sandeson, Jason Grant, Heather Rand and Holly Fisher.

Winning teams:
Cascara Ventures (Jeremy Stroud) - $2500
The fruit around the coffee bean is known as Cascara and is often discarded by farmers as a perceived waste material. Jeremy is working with a small team to create an iced-tea beverage and hopes to bring the product to market once he graduates.
X-Mice (Connor Fullerton, Lauren Peters, Josh Didychuk, & Alastair Ling) - $1500
X-Mice is a business idea to fill a demand, specifically mice as feed for raptors at the Cobequid Wildlife Rehabilitation Centre and The Shubenacadie Wildlife Park. 

Pocketbook (Michael Urso, Jessica Gibbons, Sho Tamura, Julie Roach) $1000
Pocketbook is an app for managing documents, invoices and general bookkeeping.