Jeremy Stroud
A passion for travel and agri-food has led Jeremy Stroud over 1,000 miles from his home in Toronto to the Faculty of Agriculture.
Growing up in downtown Toronto, Jeremy's knowledge of agriculture and food production was limited. He realized from a young age that he had a sincere interest in all things related to food. His mother, a teacher and nutritionist, introduced the family to whole foods, balanced nutrition and the importance of sustainability. Jeremy maintained his interest in the production of food throughout high school and in 2013, he decided to write his cumulative year-end project on food systems and the major players involved in making, moving and marketing what we eat. His project was just the beginning of his fascination for Agri-Food.
"I remember finding it amazing that food would just show up in our grocery stores packaged and ready to be eaten by us city-folk," Jeremy explains. "As I recall, most of my friends in high-school wanted to become a doctor, a lawyer, an engineer, or a banker. It took many peers and teachers by surprise when I told them that I was interested in pursuing this field."
On track to graduate in May 2018, Jeremy admits it was the International Food Business (IFB) program that drew him to the small town of Truro and the Agricultural Campus.
"A number of variables relating to the program were of interest," Jeremy explains. "I knew I wanted to combine academics with international experiences, so in that sense, travelling abroad and having the opportunity to live and study in the Netherlands was a determining factor. Another draw to the program was the ability to obtain two bachelor degrees and complete two work placements over the four years."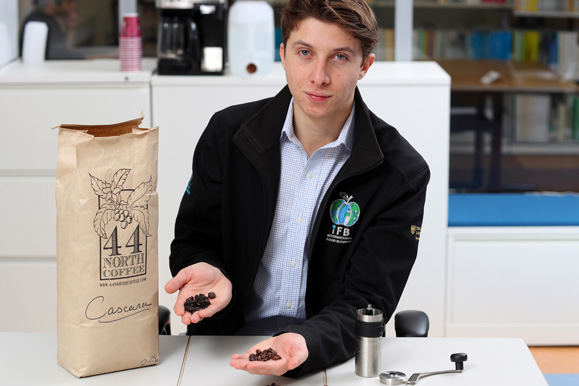 Through the IFB program, AC students have the opportunity to spend their second year of study at Aeres University of Applied Sciences in the Netherlands. The IFB program is a "dual degree" program, meaning upon graduation, students will have completed requirements to obtain two degrees: a Bachelor of Business Administration from Aeres University and a Bachelor of Agriculture in International Food Business from Dalhousie.
While Jeremy's love for agri-food is genuine, his true passion is travel. He has been fortunate to visit 37 countries over five continents thus far. Jeremy finds tremendous value in the experiences and friendships he's made during his travels.
"Relating with individuals who stem from entirely different backgrounds, immersing myself with new social constructs, and taking in the vivid beauty of unfamiliar environments are among my favorite recollections from travelling," Jeremy says. "I have learned so much through these experiences. In my opinion, partaking on a true adventure transcends anything taught in a book or classroom."
Despite spending his second year studying in the Netherlands, Jeremy has continued to be actively involved in campus life at Dal AC. He was recently elected president of the Dalhousie Agricultural Students Association (DASA)
"Working with DASA has been remarkable; I feel incredibly fortunate to be a part of this team," Jeremy says. "As president of the students' association this coming year, one of my objectives is to enhance faculty-student relationships with a multitude of events and activities. I also look forward to supporting and further integrating our growing international student population."
As if travelling, studying and student politics isn't enough, Jeremy is actively involved with Cultiv8. Cultiv8 is a collaborative workspace on the AC campus that permits students' access to mentors and entrepreneurial resources. It is a student space where ideas are explored, entrepreneurial skills are developed and opportunities are realized. Students are given the opportunity to learn about entrepreneurship through programs, mentoring, and workshops. Their entrepreneurship skills are often put to the test through competitions. Jeremy has competed at four entrepreneurial pitch competitions, placing in the top-3 each time and obtaining two first-place prizes.
"Cultiv8 has been an amazing program for me, allowing me to extend my education and to network" Jeremy says.
His Cultiv8 project looks at creating an iced tea beverage using Cascara and other natural ingredients such as honey and lemon.
"I had the chance to work in the coffee industry last year in the Netherlands as my European internship," Jeremy explains. "The first thing I learned is that the coffee bean we all know is not a bean at all; it is actually the seed of a fruit. The fruit around the coffee bean is known as Cascara and is often discarded by farmers as a perceived waste material."
Jeremy is working with a small team to create the beverage and hopes to bring the product to market once he graduates.
"Cascara is a far healthier alternative to most packaged beverage products on the market and the feedback we have received from customers and stakeholders alike has been promising," he explains. "I hope to research certain nutritional and reactive properties of Cascara over the course of my fourth year at Dal before attempting to commercialize."
Set to graduate in May 2018, Jeremy explains that his passions for travel and agri-food business will definitely be a part of his future.
"I'd like to travel for a few months after graduation," Jeremy says. "After that, I would relish the opportunity to work internationally in emerging markets and new frontiers. My background is oriented towards finance, investments and entrepreneurship and right now I feel drawn to a career in those areas."