News
»
Go to news main
On the Charge
Posted by
Stephanie Rogers
on October 27, 2017 in
News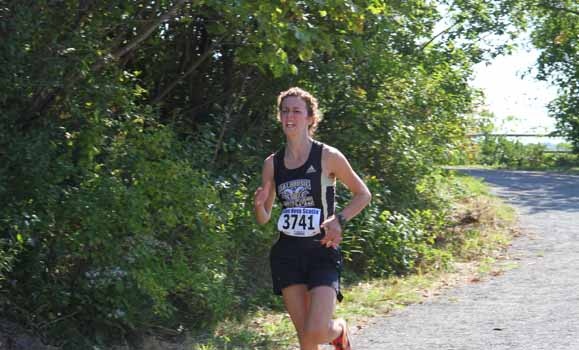 Have a quick glance at her stats and you might think Hannah Arseneault has nothing left to prove.
After all, the 21-year-old cross-country runner has won every race she has entered in the Atlantic Collegiate Athletic Association (ACAA) over three seasons for the Dalhousie AC Rams. However, there is no shortage of motivation as she enters the conference championships this weekend at Brookvale Ski Park in Crapaud, P.E.I.
"I'd like to maintain that streak, but at this point in the game I'm more focused on achieving a strong personal time on the rigorous Brookvale course than maintaining a winning record," Arseneault, a St. Martin's, N.B., native, said. "But of course those two things may go hand in hand."
They have since the Plant Science student made her debut for the Rams in 2014. Since then, Arseneault has left the competition in the dust as she pushes herself to improve her time in each 6km event. It powered her all the way to the national championships following her conference crown in 2015. She finished 22nd in a field of 107 runners in Brockville, Ont. Getting back there – the event is set for Nov. 10 and 11 in Blainville, Que., this year – and taking another crack at the best in the country is what Arseneault really wants from this weekend's showdown.
"I feel confident I can place well," she said. "But right now, success, for me, isn't determined by just placing first. I would like to attend the national meet this year and in order to do so I have to do well at the Atlantic meet."
Rams coach Joy Galloway-Jones has no doubt she will and can't wait to see what kind of performance Arsenault can come up with on Saturday on the notoriously hilly terrain.
"Hannah is a Gazelle," Galloway-Jones, the reigning conference coach of the year, said. "She is phenomenal to watch and she clearly enjoys running. I look forward to seeing just how fast she can go."
What makes Arseneault's achievements all the more impressive is that while studying at Dalhousie's Halifax campus last year, she decided to take a year away from the sport. The change in location meant she couldn't run for the Rams and after 10 years of competing each Fall she wanted to step back. Instead of hindering her progress, the decision has seemed to fuel Arseneault even more this year. She has a season's best 24:40 and finished more than a minute faster than her closest competitor last time out on Oct. 14 at Point Pleasant Park in Halifax.
"I came back with a renewed appreciation and vigour for running," Arseneault said.
Arseneault isn't the only Ram with something on the line this weekend. Dalhousie AC could be in the thick of both the men's and women's team battles while freshmen Kyle Culberson and Kieran Thornell will be looking for individual honours on the men's side.
The Rams women, defending conference champions, have a win and two third-place finishes this season while the men have a win and a pair of runner-up results to their credit. Thornell won the Point Pleasant Park event, while Culberson posted a runner-up finish Sept. 30 at Universite Ste. Anne.
"It would be awesome to finish the season with a win, for sure," Culberson said. "We would enjoy it and it's always nice to get rewarded for the work you put in all season."
"I think the boys have a really good shot at bringing home a banner this year," Arseneault added. "As far as the women's team goes, I think our success will really depend on how much we want the title race day."