News
»
Go to news main
Dalhousie Agricultural Campus Judging Team Takes Top Honours
February 4th was another great competition for the Dalhousie Agricultural Campus Judging Team. The team travelled to Montreal to compete in The 67th Annual Macdonald Intercollegiate Judging Competition held at Macdonald Campus of McGill University. Seven students and one AC alumnus competed as two teams against a total of 80 competitors and 20 teams.
The competition consisted of quizzes, placings and reasons classes. The non-livestock classes were Herb ID, Painting, Apples, Corn, Cutting Boards, Maple Syrup and Wine. For the livestock classes; the team judged Miniature Horses, Dairy Quiz, Footprint ID, Sheep, Saddles, Turkey and Dairy.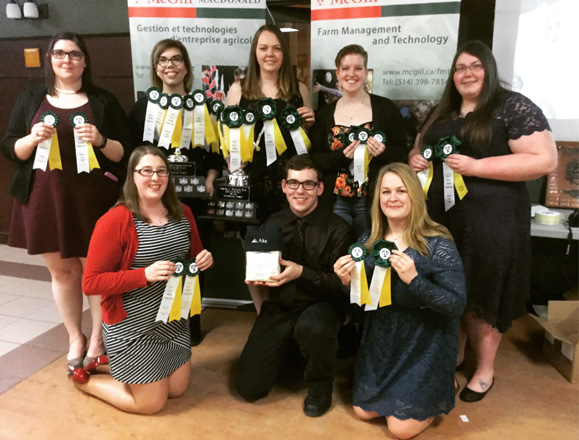 The day finished with a banquet and awards ceremony. Dalhousie took top honors for the day, winning both Overall Team and Overall Individual Judge. We would like to thank Macdonald campus for organizing and hosting the competition. The team is currently practicing their skills for the Maritime Intercollegiate Judging Competition which is their home competition at Dal AC on Saturday, March 4th.

Overall Team - Dal 2 (Andrew Greene, Arin Douglas, Emily Simms, Kayla Graham)
12th Team - Dal 1 (Jenny Mutlow, Ashley Eason, Amy Mackenzie, Emily Walsh)
Top Livestock Team - Dal 2
3rd Crops Team - Dal 2
3rd Oral Team - Dal 2

Top Individual - Kayla Graham
3rd Oral Judge - Andrew Greene
Top Livestock Judge - Kayla Graham 
2nd Livestock Judge - Andrew Greene