It's a date every member of the Dalhousie AC Woodsmen has circled on their calendars.
The 32nd annual Rick Russell Woodsmen Competition, which kicks off Saturday at MacMillan Show Centre, provides plenty to look forward to for the Bible Hill campus' athletes. It's their home event – the last of a four-meet schedule. And, oh yeah, there's that little matter of a championship points race for both the men's and women's A teams. Both groups are looking to successfully defend their 2016 CILA titles, also clinched at this event one year ago.
"It would be awesome if we could do it again and pull off back-to-back titles," men's captain Connor Morse, a 20-year-old who hails from Kingston, N.S., said. "It's not going to be easy but hopefully we can pull it off and celebrate on home turf."
Action gets underway at 9 a.m. and continues throughout the day. Admission is $5 per person and children under 12 get in free. The competition features 15 events including chopping and sawing disciplines, a water boil, axe throwing and pole climbing among others in both team and individual formats. The action is fast and furious as each event is based on time.
The men's team enters the weekend clinging to a 291-point cushion over second-place University of New Brunswick thanks to a pair of overall victories in the season's opening two events. The women have a little work to do in front of their hometown fans as they trail McGill University's Macdonald Campus by 278 points. UNB is close behind in third, just 43 points adrift.
"I think we can definitely do it," women's captain Jessie Swinamer said. "We just have to keep our spirits high. If one event doesn't go well we just have to keep going and don't get down because there are lots of other events. We have all had success in our events, we just have to focus and hit our lines."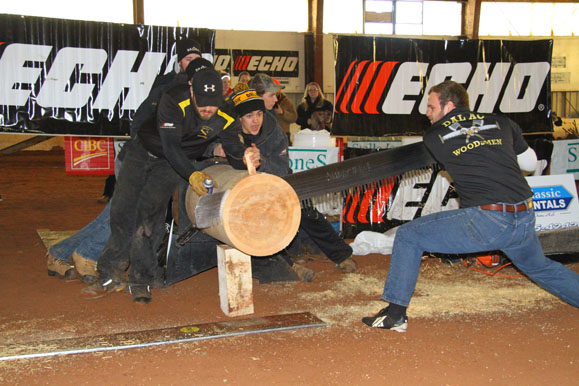 The RAMS are no strangers to success on the CILA circuit. The Men's A squad has won four of the past six crowns since 2011 while the women have also claimed four of the past six titles. Both sides went on runs of three consecutive titles from 2011 to 2013.
The Rick Russell is typically the most well-attended event on the CILA calendar and the only one held indoors. This year's edition is set to feature more than 200 athletes from 11 men's teams and nine women's squads. Teams travel from colleges across the Maritimes, Ontario, Quebec and Maine. As well, more than 500 spectators are expected to pass through the stands throughout the day.
"I don't think the other events add up to this one," Morse, an Agricultural Business student, said. "The way that the community and the students and faculty get behind this makes it the best competition to come watch and to compete in as well."
Because of that, the DAL AC bunch shows up on competition day with no shortage of motivation.
"It's the highlight of the season," Morse said. "We train all year and this is the one we want to win most."