The Dalhousie Faculty of Agriculture is pleased to announce that Ms. Amy Harrington and Ms. Emily Davis have been selected for the St. Kitts & Nevis Leadership and Farm Study Tour.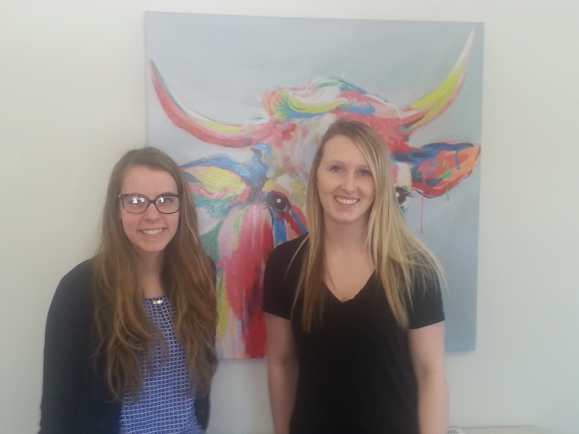 Amy Harrington and Emily Davis

Offered through the CARICOM Education for Employment 09 (St. Kitts and Nevis) www.dal.ca/cefe project, it is an opportunity for collaboration between Dal-AC students and students at Clarence Fitzroy Bryant College (CFBC), our partner on the island of St. Kitts. 
As participants in the Leadership and Farm Study Tour, Amy and Emily will work with the CFBC students to design, create and facilitate a social media campaign supporting 'youth-to-youth' conversations around agriculture and their future in it!
Amy Harrington is a student completing her first year of Animal Science studies from Glenholme, Nova Scotia. She hopes to apply her degree within a career as a zoologist and has a keen interest in dog agility, obedience and showmanship. 
Amy brings a strong agricultural background, having been a 4-H member for ninee years. Amy can certainly see where the concepts of youth, agriculture and social media intersect,.
"I think that it is important to show people where their food is coming from, putting a face to the farmer and making the world of agriculture become more exciting. As the disconnection between producer and consumer grows, our population does not know how their food is grown and many times where it is coming from. Getting youth involved and excited about agriculture will help to raise awareness about these issues. Social media is a powerful tool and I think it will make a great impact on our local youth."
Emily Davis is completing her third year of the Environmental Science program.  Originally from Oxford, NS she has truly made a home for herself on the Agricultural Campus, participating in varsity sport and re-elected for a second term to the Dalhousie Agricultural Students' Association (DASA) where she will serve as VP Finance in the upcoming year.
"Growing up in an environment with little exposure to agriculture, my interest has continued to grow consistently since I entered Dalhouse's Faculty of Agriculture. Not only am I interested in Canadian agriculture, but also agriculture in other parts of the world.  Secondly, I do feel very strongly that agriculture is a field very under-emphasized in Canada and I witnessed this first hand, being only 1 of 2 students entering into this field from my previous high school.  I would absolutely love to be part of a project that attempts to highlight the massive importance of agriculture as a fielda nd to create interest in young people."
This mobility opportunity arose from the recognition that both the Caribbean and Canada are experiencing a similar challenge of a growing trend of youth disinterest in entering agricultural fields. This opportunity aims to have youth "speak" to youth, encouraging them to consider the importance of agriculture and entering an agricultural field. 
As part of this mobility opportunity up to four students from CFBC will travel to Nova Scotia in July and in mid-August Amy and Emily will travel to St. Kitts & Nevis for two weeks.  Over this time period the students will design and create their social media campaign, launching it in the fall.  The travel will offer the participants the chance to learn about agriculture in both locations and understand local contexts to situate their social media campaign.
Watch for updates on the social media campaign!  You can view the campaign created last summer via the Dominica Leadership and Farm Study Tour social media campaign at its Facebook page "Agri-Jobs: More Than Just the Farm."