John Tait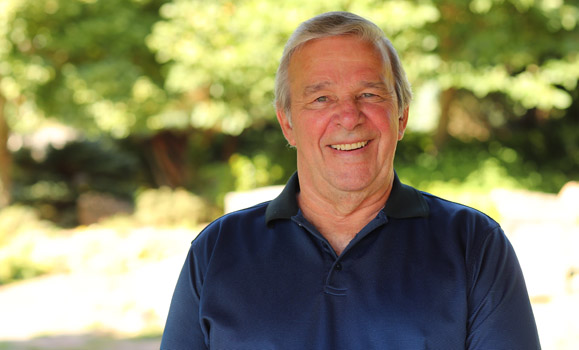 A legendary professor
John Tait (Class of '66)
By Emma Geldart
Mr. John Tait (Class of '66) is often described by students at Dalhousie University Faculty of Agriculture as a "legendary professor." His dedication to his students always went beyond the classroom, earning him this unofficial, yet deserving, title. His students were his top priority and teaching was his passion. A graduate himself of Dalhousie University Faculty of Agriculture (then Nova Scotia Agricultural College), John exceeds the criteria for the Faculty of Agriculture's most prestigious award of Distinguished Alumni.  
Recognized at the 2018 Blue and Gold Awards, the Distinguished Alumni Award acknowledges outstanding service and commitment to the Faculty of Agriculture, industry and the Alumni Association.  John has done just that, and so much more.
John's journey in academics began at Dal AC in 1966 where he graduated with a diploma in agriculture majoring in agricultural economics. He then moved to Ontario to study science at the MacDonald College of McGill University. After graduating in 1968 with a Bachelor of Science majoring again in agricultural economics, John struggled to find a job that he felt truly passionate about.
"My academic advisor told me the reason I wasn't ready to accept a job was because I was ready to do my Master's degree," John explains.
Following the advice of his academic advisor, in 1970 John graduated from the University of New Hampshire with a Master's of science degree in resource economics. He then returned to his alma mater, Dal AC, and was hired as a professor in the business department.
"I was not a natural lecturer," John smiles. "My wife was sure I wasn't going to survive! It was difficult for me to get up in front of people. Once I realized what the students at AC were like- they wanted to see you succeed, it was easier. It was certainly not clear sailing but it got easier."
It was these first few cohorts of students that John taught that helped him realize his passion for helping students succeed. Always looking for new opportunities to help his students reach their full potential, John played an instrumental role in developing the agricultural economics and agricultural business programs from two year diploma programs to four year degree programs. After that, John became head of the business department at Dal AC, a position he held for over twenty years.
On top of teaching classes, John was also an academic advisor for students in the agricultural business and economics programs. As professor and advisor, John inspired many students to excel in the business and farming programs and has supervised projects at the diploma, undergraduate and graduate levels.
John was also responsible for the farming technology program, a program that required students to perform seven months of on-farm training. It was here that John's passion for his students really shone through. He dedicated much of his time to finding the perfect farm for work placements for students. His involvement didn't end with matching students with farms. He regularly performed follow up visits to ensure his students were succeeding.
John's passion for ensuring student success extended internationally as well. From 1989 to 1993, John worked with students extensively in countries such as Kenya, Gambia, and Estonia. A number of students attended Dal AC to upgrade from diploma to degree level status. Not only acting as academic advisor for some of the international students, John worked as replacement professor and lecturer, presenting short courses in Kenya, Gambia, and Estonia.
Based on testimonials from students, it's clear that John seemed able to connect with his students in a way that is often rare. He was often a recipient of student awards, a definite highlight of his teaching career. John believes that it is his own experience as an Aggie that allows him to understand students on a deeper level.
"My early performance at AC was not stellar," John admits. "In retrospect, I got along really well in dealing with students because I understood what they were going through and their challenges. I believe it helped me to, hopefully, guide them a little bit better."
Although John retired in 2005 and is no longer a professor at Dal AC, he has left a lasting impact on the campus, the students, staff and his fellow faculty members. John's name is a familiar name around the Aggie farm family table and has positively impacted students both on campus, and around the world. John Tait, the legendary professor, is certainly more than deserving of this year's Distinguished Alumni Award.