Donald Cameron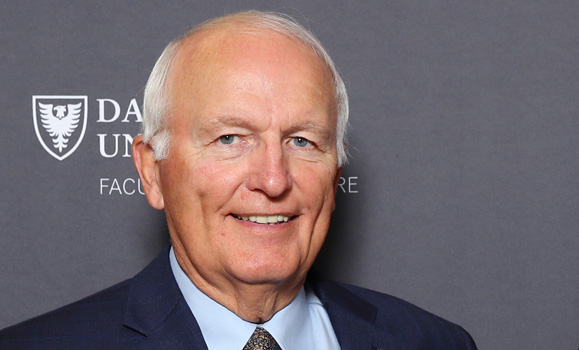 Distinguished Alumnus 2019
Donald Cameron (Class of '66)
Trying to subtly talk his then girlfriend, whom he met while finishing his degree at McGill University, into coming to his home province of Nova Scotia – Donald Cameron explained it was a beautiful place to live and raise a family and that he wanted to build a farming business. He also admitted we could do better here and that someday, he was going to be part of a government to make those changes for NS.
Not only did he sell that proposition to his wife of now over 50 years, but he built, owned and managed one of the biggest farm operations in NS before fueling the biggest desire burning within – and made change.
When first elected to the Nova Scotia Legislature in 1974, Don was appointed Minister of Recreation. Elected six more times, he also served as Minister of Fisheries, Minister of Industry and served as Chairman of the Legislature's Free Trade Committee before becoming Premier of Nova Scotia in 1991.
Among many of the changes he helped make, a highlight for Don included the first day he sat in the legislature as premier, his government introduced Human Rights legislation, which included equal rights for gays and lesbians, making NS one of the first places in North America to do so.
Even though this was a moment of pride for Don, he's certainly not one to brag. He admits he is very humble and always said he wanted the job, not the title. And when asked about his career, his quick response is simple – he's a farmer.
Humble, kind, passionate about agriculture and making a difference, there's no question that Don Cameron is a very deserving recipient of the Distinguished Alumnus Award for 2019.