Storage studies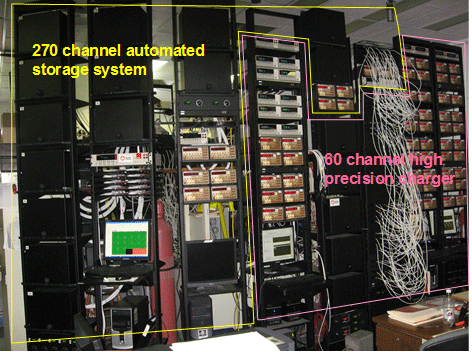 The cycle and calendar life requirements in vehicular applications are far more demanding than in computer and phone applications. Capacity loss in Li-ion batteries occurs during storage and cycling.
An 80 channel automated storage/cycling Instrument and a 190 channel storage-alone system were designed and built.
The voltage change during storage, capacity before and after storage can be used to extract the magnitudes of the parasitic currents that occur in the Li-ion cell and determine the effect of temperature, potential, electrolyte additives, etc. on these parasitic currents.
References
Nupur Nikkan Sinha, A. J. Smith, J. C. Burns, G. Jain, K.W. Eberman, E. Scott, J. P. Gardner, and J. R. Dahn, J. Electrochem. Soc., 158, A1194 (2011).
Nupur Nikkan Sinha, T.H. Marks, H.M. Dahn, A.J. Smith, J.C. Burns, D.J. Coyle, J.J. Dahn and J.R. Dahn J. Electrochem. Soc., 159, A1672 (2012).