News
»
Go to news main
Fieldwork Report: Powell Lake Sampling 2016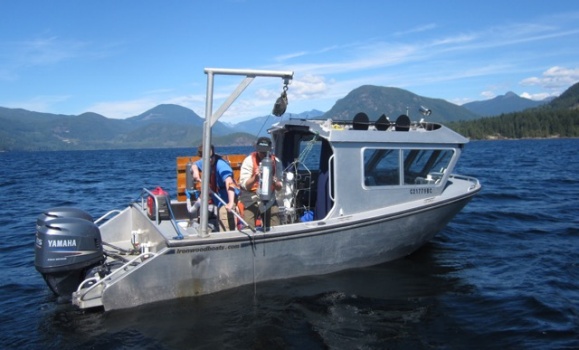 In late August 2016, members of the CERC.OCEAN group led an expedition to Powell Lake, British Columbia. A small boat equipped for water sampling was hired from the Earth and Ocean Science Department of the University of British Columbia. Water samples for analysis of Nitrogen and Carbon cycle components as well as Molecular Biology were taken. On top of that, we used a CTD combined with a ProOceanus CO2 sensor loaned by ProOceanus and assembled by CERC.OCEAN engineers.
UBC Physical Oceanographer Dr. Rich Pawlowicz and Field Technician Chris Payne were part of our team in the field. After two ferry rides and a long winding road from Vancouver, they went straight out onto the lake for an all-night sampling session. The Dalhousie researchers headed out onto the lake the next morning, where they stayed to sample until midnight in order to get all samples for frozen shipment on dry ice to be analyzed in the CERC.OCEAN lab in Halifax.
After two extremely busy first days, the remaining four days on the lake gave us a little more time to marvel at the lush green hills around Powell Lake in-between sensor casts and Niskin bottles bringing up stinky, sulfidic water from the deep parts of the lake. The now landlocked lake used to be a fjord connected to the Pacific Ocean until the last ice age. Then, the disappearing weight of the retreating glaciers lifted the North American continent, creating a land barrier between Powell Lake and the ocean. The steep slopes of the lake still drop to great depths of up to 350 meters in the lake's southern basin, and ancient, oxygen-free seawater remains trapped at the lake's bottom. 
A huge thanks goes out to Rich Pawlocwicz, Chris Payne, the UBC Earth and Ocean Science Department and also to ProOceanus. The project was financed by CERC.OCEAN funds.
The CERC.OCEAN team in the field included Jessie Jawanda (Honours Candidate, Dalhousie), Anna Haverstock (Research Technician, CERC.OCEAN) and Sebastian Haas (Ph.D. Candidate, CERC.OCEAN).