News
»
Go to news main
Cruise Report: Gdansk to Halifax
Posted by
Derek Boudreau
on July 10, 2015 in
Students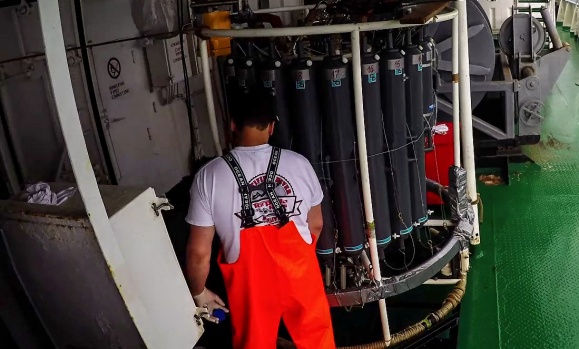 Departure: June 11, 2015 from Gdansk, Poland
Arrival: July 4, 2015 at Halifax, NS, Canada
Ship: Akademik Ioffe
Report
I flew to Gdansk, Poland where I was going to meet the boat on June 11th. When I got to the Akademik Ioffe, which is a Russian ship, I was greeted by all the Russian scientists and crew and afterwards known as the "Canadian" on-board the vessel. We sailed for 5 days as everyone set up their equipment to sample.
We then sampled for 12-13 days going across the Atlantic and ending very close to Greenland. During this time we stopped every few hours to sample the water where I would I would test for pH/Alkalinity, Carbon 13, Oxygen 18, Nutrients, and Chlorophyll A. Afterwards we sailed for 5 or 6 days to Halifax as everyone packed all their equipment away and arrived back July 4th.
It was a great experience, one I will truly not forget. The food was great, the people were awesome and almost all of them spoke English as a second language which is very helpful since I didn't know any Russian. We had a chance to see an iceberg, some orcas, and other wildlife and we also got very close to Greenland and a few European countries.
Videos
Aboard the Akademik Ioffe, we had a chance to put our camera down to 25 meters deep and close a few niskin bottles on the way up during our research cruise
This is a time-lapse of me at 30x speed taking samples of the Niskin bottles that went as deep as 3 km at station 3351 on the research cruise in North Atlantic.
Photos