Policy Matters: Health Care Reconsidered Speaker Series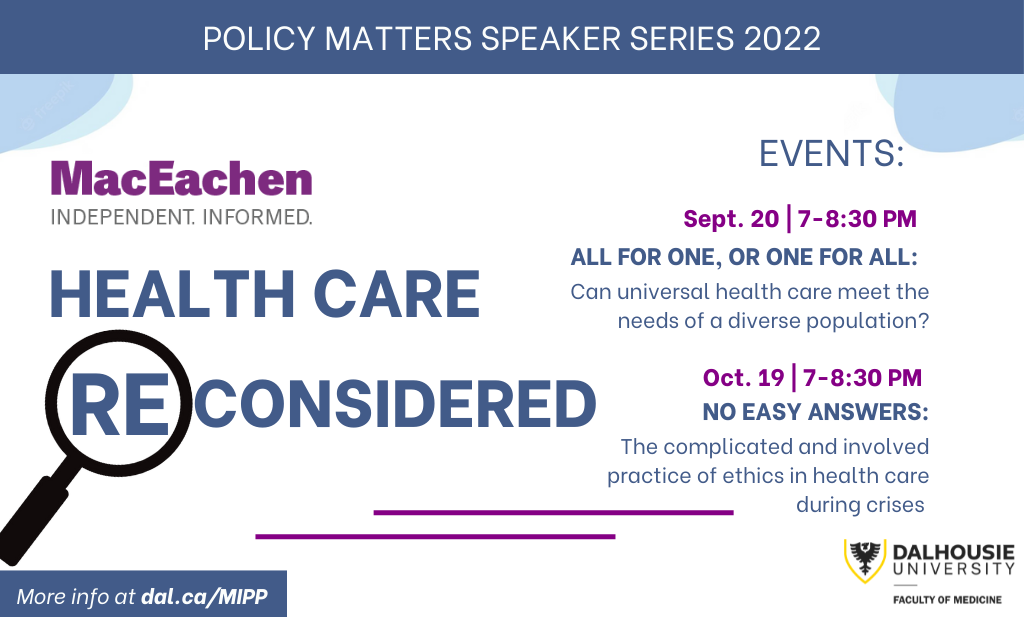 About the Series
Policy Matters is a series of panel discussions on major policy issues presented by the MacEachen Institute for Public Policy and Governance. Each discussion features thought leaders from civil society and, this fall, focuses on the theme of the future of health care in Atlantic Canada. The discussions take place in Theatre A of the Sir Charles Tupper Medical Building at Dalhousie. The events are designed to encourage public engagement with local, national and international policy issues and are open to the public.
Over the past two and half years, the COVID-19 pandemic has put strain on Canada's health care system and exposed weaknesses that were already present. In partnership with Dalhousie's Faculty of Medicine, this series of panels asks leading experts about new ways to approach health care and catalyze change in the system.
Event Dates
September 20 - All for One, or One for All: Can universal health care meet the needs of a diverse population?
October 19 - No Easy Answers: The complicated and involved practice of ethics in health care during crises
Confirmed speakers:
Maxwell Smith - Bioethicist and Assistant Professor, Faculty of Health Sciences, Western University; Associate Director, Rotman Institute of Philosophy; and consulting bioethicist, Sunnybrook Health Sciences Centre
Bashir Jiwani - Lead Ethicist and Executive Director, Ethics and Diversity Services, Fraser Health Authority and President, Canadian Bioethics Society
Christy Simpson - Associate Professor, Department of Bioethics, Dalhousie University and Coordinator, Ethics Collaborations Team, Department of Bioethics
Marika Warren - Assistant Professor, Department of Bioethics, Dalhousie University and Network Ethicist, Nova Scotia Health Ethics Network
Lawrence Loh - Chief Executive Officer, College of Family Physicians of Canada and Adjunct Professor, Dalla Lana School of Public Health, University of Toronto.
Sharon Davis-Murdoch - Co-President, Health Association of African Canadians; Co-Manager, Association of Black Social Workers and Health Association of African Canadians (COVID-19 Response and Impact Team); and advisor, Halifax Immigrant Partnership