Resources & facilities
Tutor program
Our unique tutor program brings practicing occupational therapists into the classroom nearly every day. Instrumental in helping students develop both clinical judgment and practice skills, tutors are experienced occupational therapists who lead, facilitate and evaluate small student-groups,laboratory and tutorial sessions. These dedicated and dynamic individuals will help you to link your theoretical and academic learning to practical application and everyday practice through the experiential and reflective learning processes.
Living lab – Simulation suite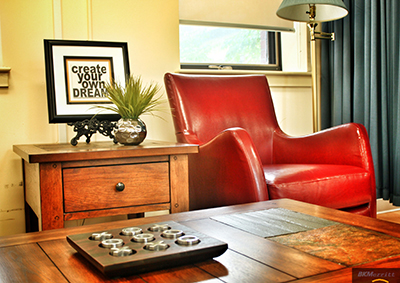 The Dalhousie School of Occupational Therapy has revitalized their Living Lab – Simulation Suite. This teaching and research space has been updated to reflect a home environment and optimized for contextually relevant learning experiences, assessments, and research studies related to everyday life tasks.
Location: Forrest Building Rm 201
Features
bedroom
living room
dining room
office space
kitchen
bathroom area
high-tech video studio
flexible configuration
Electronic assessment library
Occupational therapists work in many settings – health care, education, industry – assessing people's abilities, the environments around them and the resources and supports they use every day. Our online electronic assessment library provides access to the information you will need.
Once enrolled in the program, you will have automatic access to this library for the duration of the program, ensuring you can locate needed information regardless of your location.
Internet video conferencing
Lifesize is a state-of-the-art videoconferencing system that links the school via IP address, with many locations in Canada and beyond. Lifesize is being used by our distance students for defense of their theses. As technology advances, we are learning new ways to deliver online education, speak to preceptors and students and to hold multi-site research meetings.
Equipment loan system
Our equipment loan system allows you to borrow the equipment you need to gain mastery and confidence in your skills. Mobility devices, therapy equipment and assessment tools can be signed out for independent study, group work and practice for exams. We have a great inventory for you to use and we encourage you to take advantage of our loan system to help make your learning practical and hands-on.
After hours study space
Controlled access to the Forrest Building allows students in the School of Occupational Therapy access to a quiet place to study during the evenings and weekends. All you need is your Dal card.
Graduate student common room
The graduate student common room in the Forrest Building gives students from occupational therapy, physiotherapy and nursing a casual place to eat lunch, surf the net and sometimes even study!