Equipment room
Unlocking innovation and performance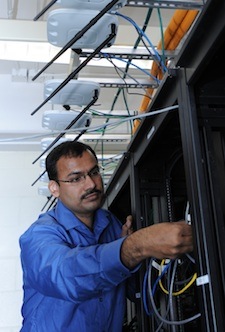 Using our extensive network infrastructure capabilities, Internetworking program team members consistently design and test new laboratory experiments aimed at keeping the course laboratory components current and relevant.
The equipment room is accessible from both the lab/classroom and remotely.
See below for details on the equipment that currently compliments our equipment room.

Routing and Switching
Routers:
Cisco 3800 Series Integrated Services Routers (ISR)
Cisco 3900 Series Integrated Services Routers (ISR)
Switches:
Cisco Catalyst 3560 Series Switches
Cisco Catalyst 3550 Series Switches
Cisco Catalyst 2950 Series Switches
Cisco Catalyst 2960 Series Switches with 10 Gig port
Software Versions
Cisco ISR Series running IOS Software Version 15.X
Cisco Catalyst 3560/3550 Series Switches running Cisco IOS Software Release 12.2(X)SE
Cisco Catalyst 2950/2960 Series Switches running Cisco IOS Software Release 12.2(X)SE
Security
Cisco ASA 5515 and 5510 Series Adaptive Security Appliances
Cisco IPS Series 4260 Intrusion Prevention System sensors
Cisco S-series Web Security Appliance
Cisco ISE 3300 Series Identity Services Engine
Software Versions
Cisco ASA 5500 Series Adaptive Security Appliances OS Software Versions 8.2 and 8.6
Cisco IPS Software Release 7.0
Cisco WSA S-series software version 7.1.3
Cisco ISE 3300 series software version 1.1
Wireless
Cisco Aironet 1200 Series Wireless Access Point
Cisco Wireless LAN Controller
Software Versions
Cisco Wireless LAN Controller software release 7.x
Cisco Aironet 1200 series AP Cisco IOS Software Release 12.4J(x)
VoIP
Cisco UCS C210 M2 Server
Cisco IP Phone 7970 Series
Cisco Unified IP Phone 9951 Series
Software Versions
Cisco Unified Communications Manager 8.6
Cisco Unified Contact Center 8.5
Cisco Unified Presence 8.6
Cisco Unity Connection 8.6
Network Management
Cisco Prime Network Control System 1.3 (NCS)
HP OpenView Network Node Manager (v 9.10)